A cell is not only the basic unit of biological structure and function but also of organismal aging. Most cells of an organism go through several stages during their lives: proliferation, differentiation, senescence, and death. It is well known that nothing is permanent, and the ability of cells to proliferate is no exception. One barrier to the continuous division of the cultured cells is the senescence, which was first proposed to describe the limited proliferative competence of normal human fibroblasts in culture by Leonard Hayflick and Paul Moorhead in 1961 [1]. The number of times (about 50) that normal human embryonic cells can divide before they succumb to senescence is known as the 'Hayflick Limit'.
In this review, the definition, causes, roles, pathways, markers of cellular senescence, as well as the diseases related to cellular senescence and their therapies will be described.
1. What Is Cellular Senescence?
Cellular senescence is a process in which proliferating cells terminate division and permanently quit the cell cycle. Different from quiescence, which is reversible with appropriate mitogens, senescence is a permanent cell cycle halt state. Senescent cells arrest their own proliferation, recruit phagocytic immune cells, and promote tissue regeneration. This process includes three sequential events: senescence, clearance, and regeneration. Senescence takes place throughout life, including embryogenesis, growth and development, tissue regeneration, and wound healing.
Senescent cells go through cell cycle stagnation but remain viable or metabolically active [2] [3], with morphological, biochemical, and functional alterations. They usually appear a multinucleated, large, polygonal, and flattened morphology, and assume spindle and vacuolization features [4]. Golgi apparatus and lysosomes in senescent cells increases in number, and intracytoplasmic particles increase significantly. In addition, molecular phenotypes also take place in senescent cells, including increased activity of senescence-associated β-galactosidase (SA-β-gal) activity, the release of senescence-related secretory phenotype (SASP) (such as growth factors, chemokines, and proinflammatory cytokines), telomere dysfunction, autophagy impairment, and apoptosis resistance [5-7]. These characteristics disturb cellular communications with neighboring cells and tissues, ultimately resulting in the transformation of adjacent cells and the destruction of the extracellular matrix, promoting the spread of cancer cells in the body [8] [9].
Additionally, senescent cell surface receptors, ligands, and intracellular signaling components are increasingly expressed, facilitating recognition of senescent cells and aiding their clearance by immune cells.
2. What Causes Cellular Senescence?
Cellular senescence is a regulated response to stress. Senescence occurs when cells encounter a variety of stimuli, including telomere erosion, DNA damage, mitochondrial dysfunction, nutrient signaling dysfunction, chronic inflammation, stem cell exhaustion, proteotoxicity, expression of oncogenes, and mitogenic signals [10-12].
3. Functions of Cellular Senescence
Cellular senescence exerts dual effects on cells. It plays beneficial roles in embryo development, maintenance of tissue homeostasis, wound healing, host immunity, and inhibition of tumor progression [13-16]. On the contrary, cell senescence is one of the major causes of aging and age-associated diseases. It promotes tissue regeneration during development and after injury, but impairs cells' regenerative and functional capacity, leading to inflammation and tumorigenesis in senescent organisms. Senescent cells steadily accumulate in late pathogenic phases due to inadequate clearance, contributing to the aggravation of pathological symptoms.
Additionally, senescent cells can promote cancer progression by up-regulating and releasing the SASP including cytokines, proteases, and growth factors that can change the tumor microenvironment. The secretion of these factors can promote angiogenesis, extracellular matrix remodeling, or epithelial-mesenchymal transition (EMT), leading to tumor progression and metastasis. The inflammation associated with SASP can induce immunosuppression, thereby further fueling the growth of uninhibited cancer cells.
4. Two Pathways Maintaining Senescence Growth Arrest
A senescence response can be triggered by plenty of stimuli, which are dependent on two pathways that establish and maintain senescence growth cessation. These two pathways are regulated by the gatekeeper tumor suppressor proteins p53 and pRB [17] [18].
4.1 The p53 Pathway
Following being stimulated by numerous stress signals such as telomere erosion, DNA damage, and oncogene activation, p53 is activated by two posttranslational modifications: phosphorylation (ATM-Chk2 or ATR-Chk1) and acetylation (p300/CBP, PCAF, Tip60/hMOF, and SIRT1), and by enhances protein stability (ARF-MDM2), and by increased translation rates (RNPC1, HuR, and RPL26). And then, active p53 activates the expression of pro-senescent targets such as p21 and E2F7, which contributes to G1 cell cycle arrest and mitotic genes suppression, respectively, resulting in cellular senescence or other cellular responses [19] [20].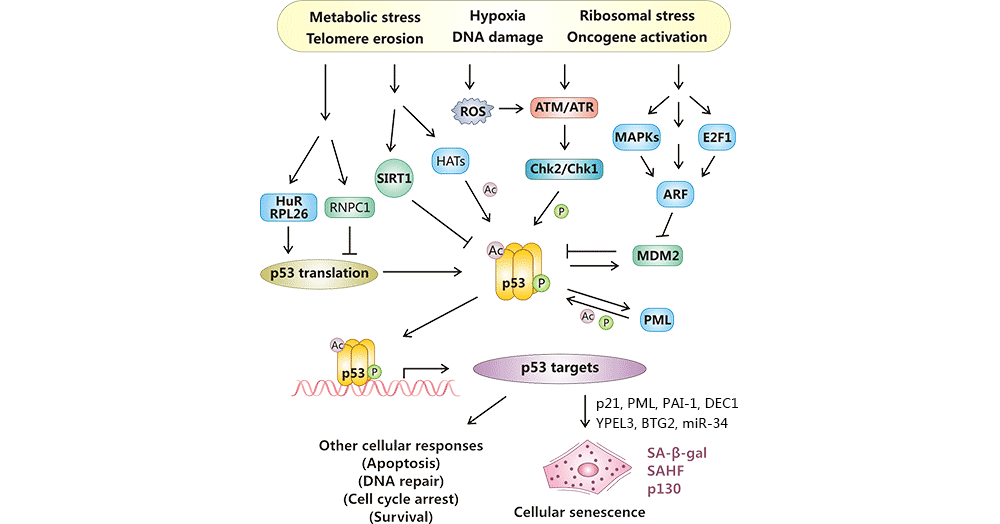 Figure 1: Cellular senescence regulation by p53.
The picture is cited from: https://www.ncbi.nlm.nih.gov/pmc/articles/PMC3784259/
4.2 The pRB Pathway
Various internal or external stress factors trigger the DNA-damage response (DDR) pathway, which triggers p16INK4A pathways. p16INK4A inactivates Cdk4 and Cdk6, results in accumulation of phosphorylated pRb, inhibits the expression of E2F transcription factors, and promotes cell cycle arrest or senescence [21].
5. Senescence Markers
So far, no senescence marker or hallmark has been established that is completely unique to the senescent state. Furthermore, not all senescent cells express all of the senescence markers that are available. Some available senescence markers include short and dysfunctional telomeres, p16INK4A expression, persistent DNA damage response, the release of SASP, senescence-associated heterochromatin foci (SAHF), enhanced SA-β-gal activity, and loss of Lamin B1.
Different aspects
Senescent Features or Markers
Further elucidation
Morphologic characteristics
Increased size
These morphologic features can be assessed using approaches such as brightfield microscopy and may reflect their altered metabolism and organelle homeostasis.
Increased granularity
Cell cycle arrest
p21–p53
High levels of any of these proteins results in cell cycle arrest and may indicate senescence.
p16–RB
Staining for p16INK4A is one of the best-acknowledged markers for senescence [22]. Most senescent cells express p16INK4a, which is not commonly expressed by quiescent or terminally differentiated cells.
Mitochondrial changes
Increased size/number
Senescent cells have increased mitochondrial abundance, as well as changed membrane potential, increased ROS generation, oxidative phosphorylation, and oxygen consumption. They can be used to enhance senescent cell phenotyping.
Increased ROS production
Decreases membrane integrity
Lysosomal changes
Increased size/number
Lysosomal abundance in senescent cells allows for senolysis through enhanced autophagy.
Enhanced SA-β-gal activity
Lysosomal enzyme SA-β-gal is a commonly used senescence biomarker and can be detected at pH 6.0 [23]. SA-β-gal partly reflects the increase in lysosomal mass [23] [24]. It accumulates in the lysosome in senescent cells.
Lipofuscin accumulation
Lipofuscins are aggregates of lysosomal byproducts and accumulate within senescent cells.
Nuclear changes
Telomere shortening
It is the major cause for aging [25].
telomere-associated foci
These markers all reflect DDR.
γ-H2AX
SAHF
Lamin B1/LMNB1 loss
Lamin B1 is involved in structural changes of the nucleus with senescence [26].
Decreased DNA replication
Senescent cells proliferation is halted and retain low replication capacity.
Additional selected features
Cytosolic DNA/cGAS–STING activation
SASP includes interleukins like IL-6, chemokines like IL-8, and growth factors like VEGF7. They affect neighbouring tissues and may induce senescence in adjacent cells.
LINE-1 retrotransposon de-repression
remodeling of SASP-associated super-enhancers
Table: Senescent markers and features. (The information in the table comes from https://www.nature.com/articles/s43587-021-00121-8)
6. Senescence-associated Diseases
Although senescence supports programming during development and wound healing while suppressing carcinogenesis, a persistent buildup of senescent cells is connected to a variety of age-associated diseases, such as atherosclerosis, fibrotic pulmonary disease, hepatic steatosis, osteoarthritis, cancer, and Alzheimer's disease [27-29]. Cellular senescence is also a hallmark mechanism of aging. Senescent cells increase with age in various mammalian tissues [30] [31].
Since cellular senescence is related to the occurrence and pathological processes of a large number of diseases, there are many studies that seek to control diseases by promoting or inhibiting cellular senescence. As a result, the targeted eradication of senescent cells has emerged as a promising new therapeutic path, with researchers confirming the feasibility of this method. Current targeting strategies include the regulation of SASP, activation of apoptosis, and immune-based elimination of senescent cells. These methods have been successful in mouse disease models, and there are also some excellent clinical studies is ongoing.
References
[1] Hayflick, P.S. Moorhead. The serial cultivation of human diploid cell strains [J]. Exp. Cell Res., 25 (1961), pp. 585-621.
[2] J.R. Dörr, Y. Yu, M. Milanovic, et al. Synthetic lethal metabolic targeting of cellular senescence in cancer therapy [J]. Nature, 501 (2013), pp. 421-425.
[3] Matsumura T, Zerrudo Z, Hayflick L. Senescent human diploid cells in culture: survival, DNA synthesis and morphology [J]. J. Gerontol. 1979;34:328–334.
[4] Kuilman T, Michaloglou C, et al. The essence of senescence [J]. Genes Dev 2010; 24: 2463–2479.
[5] Zehua Wang, Jianwen Gao, et al. Targeting senescent cells and tumor therapy (Review) [J]. International Journal of Molecular Medicine 46.5 (2020): 1603-1610.
[6] Ewa Sikora1, Anna Bielak-Zmijewska, et al. Cellular Senescence in Brain Aging [J]. Front. Aging Neurosci., 25 February 2021.
[7] B.G. Childs, D.J. Baker, et al. Senescence and apoptosis: dueling or complientary cell fates [J]? EMBO Rep., 15 (2014), pp. 1139-1153.
[8] Hernandez-Segura A, Nehme J, Diaria M. Hallmarks of Cellular Senescence [J]. Trends Cell Biol. 2018;28:436–453.
[9] Byun HO, Lee YK, et al. From cell senescence to age-related diseases: differential mechanisms of action of senescence-associated secretory phenotypes [J]. BMB Rep. 2015;48:549–558.
[10] B.G. Childs, M. Durik, et al. Cellular senescence in aging and age-related disease: from mechanisms to therapy [J]. Nat. Med., 21 (2015), pp. 1424-1435.
[11] D. Muñoz-Espín, M. Serrano. Cellular senescence: from physiology to pathology [J]. Nat. Rev. Mol. Cell Biol., 15 (2014), pp. 482-496.
[12] J.M. van Deursen. The role of senescent cells in ageing [J]. Nature, 509 (2014), pp. 439-446.
[13] Kuwano K, Araya J, et al. Cellular senescence and autophagy in the pathogenesis of chronic obstructive pulmonary disease (COPD) and idiopathic pulmonary fibrosis (IPF) [J]. Respir Investig. 54:397–406. 2016.
[14] Shimizu H, Bolati D, et al. NF-κB plays an important role in indoxyl sulfate-induced cellular senescence, fibrotic gene expression, and inhibition of proliferation in proximal tubular cells [J]. Am J Physiol Cell Physio. 2011 301:C1201–C1212.
[15] Lansu K and Gentile S. Potassium channel activation inhibits proliferation of breast cancer cells by activating a senescence program [J]. Cell Death Dis. 2013 Jun; 4(6): e652.
[16] Ma J, Hu X, Liao C, et al. Gypenoside L inhibits proliferation of liver and esophageal cancer cells by inducing senescence [J]. Molecules. 2019, 24(6):1054.
[17] F. Bringold and M. Serrano. Tumor suppressors and oncogenes in cellular senescence [J]. Exp. Gerontol., 35 (2000), pp. 317-329.
[18] A.S. Lundberg, W.C. Hahn, et al. Genes involved in senescence and immortalization [J]. Curr. Opin. Cell Biol., 12 (2000), pp. 705-709.
[19] Rufini, A., Tucci, P., et al. Senescence and aging: the critical roles of p53 [J]. Oncogene 32, 5129–5143 (2013).
[20] Qian Y and Chen X. Senescence regulation by the p53 protein family [J]. Methods Mol Biol. 2013;965:37-61.
[21] Parikh P, Wicher S, et al. Cellular senescence in the lung across the age spectrum [J]. Am J Physiol Lung Cell Mol Physiol. 2019;316(5):L826-L842.
[22] Krishnamurthy J, Torrice C, et al. Ink4a/Arf expression is a biomarker of aging [J]. J Clin Invest (2004) 114:1299–307.
[23] Dimri G.P., Lee X., et al. 1995. A biomarker that identifies senescent human cells in culture and in aging skin in vivo [J]. Proc. Natl. Acad. Sci. USA. 92:9363–9367.
[24] Lee B.Y., Han J.A., et al. Senescence-associated beta-galactosidase is lysosomal beta-galactosidase [J]. Aging Cell. 2006. 5:187–195.
[25] Harley CB, Futcher AB, Greider CW. Telomeres shorten during ageing of human fibroblasts [J]. Nature (1990) 345:458–60.
[26] Freund A, Laberge R-M, et al. Lamin B1 loss is a senescence-associated biomarker [J]. Mol Biol Cell (2012) 23:2066–75.
[27] Bhat R, Crowe EP, et al. Astrocyte senescence as a component of Alzheimer's disease [J]. PLoS One. 2012;7:e45069.
[28] Ogrodnik M, Miwa S, et al. Cellular senescence drives age-dependent hepatic steatosis [J]. Nat Commun. 2017;8:15691.
[29] Schafer MJ, White TA, et al. Cellular senescence mediates fibrotic pulmonary disease [J]. Nat Commun. 2017;8:14532.
[30] Melk A., Kittikowit W., et al. Cell senescence in rat kidneys in vivo increases with growth and age despite lack of telomere shortening [J]. Kidney Int. 2003. 63:2134–2143.
[31] Erusalimsky J.D., Kurz D.J.. Cellular senescence in vivo: its relevance in ageing and cardiovascular disease [J]. Exp. Gerontol. 2005. 40:634–642.