Mesenchymal Stem Cell
As a new medical treatment, mesenchymal stem cells (MSCs) have attracted widespread attention. Numerous animal studies have shown that MSCs have the effect of improving disease, laying a theoretical foundation for the promotion of clinical trials. But, do you really know MSC? And what are the function of MSCs? This article includes the following aspects:
What is the MSC?
Mesenchymal stem cells (MSCs) are multipotent adult stem cells that have self-renewal capacity and differentiation potential into several mesenchymal lineages including osteoblasts (bone cells), chondrocytes (cartilage cells), myocytes (muscle cells) and adipocytes (fat cells which give rise to marrow adipose tissue) [1] [2] (Figure 1). MSCs, the "other" bone marrow stem cells, mainly derive from bone marrow, and still is the most frequently utilized. Moreover, the source of MSCs also includes cord cells, adipose tissue, molar cells and amniotic fluid [3].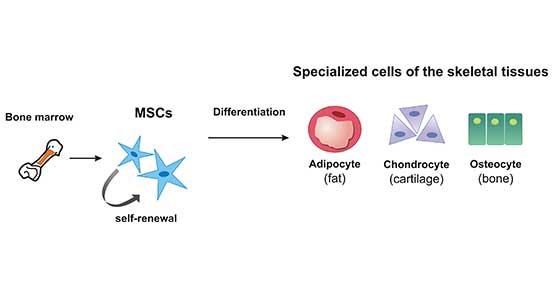 Figure 1. The Subtypes Of MSCs
What Is The Function of MSC?
Mesenchymal stem cells are a branch of research in stem cells. Stem cells are a class of cells that have the ability to replicate and multi-differentiate. They can continuously renew themselves and transform into one or more types of human tissues or organs under specific conditions cell.
Mesenchymal stem cells function mainly through three mechanisms: 1) differentiation into specific cell lineages and integration into tissues, which can be applied to regenerative medicine; 2) secretion of cytokines, exosomes and other factors to promote cell survival and Growth and regulation of inflammation; 3) Mesenchymal stem cell cells are in direct contact with host cells to regulate the function of effector cells.
The clinical efficacy of mesenchymal stem cells has been proven in diseases such as graft-versus-host disease and Crohn's disease and anal ridges. Mesenchymal stem cells can effectively regulate inflammation and improve conditions.
The Clinical Applications of MSC?
MSCs have been applied to solve various blood system diseases, cardiovascular diseases, liver cirrhosis, neurological diseases, partial meniscus resection and repair of knee joints, and autoimmune diseases in clinical. Moreover, scientists forecast that MSCs have long-term development prospects in nervous system repair.
In 2004, Le Blanc et al. reported the success of the first case of semi-consistent allogeneic MSC transplantation for GVHD. The US FDA has approved nearly 60 clinical trials, mainly including the following aspects:
Hematopoietic stem cell transplantation: it aims to enhance hematopoiesis, promote the implantation of hematopoietic stem cell transplants and treat graft versus host disease.
Repair of tissue damage: these tissue includes bone, cartilage, joint, heart; liver, spinal cord and nervous system.
Autoimmune diseases: systemic lupus erythematosus, scleroderma, inflammatory enteritis, etc.
Act as a carrier of gene therapy.
Among them, the treatment of graft versus host disease and Crohn's disease has entered the phase III clinical stage in the United States.
The Collection of MSC Markers
MSCs isolated from various tissues including bone marrow, umbilical cord, adipose tissues, liver and pancreas have different differentiation and proliferation potential. To identify the MSCs, we list several cell surface markers of MSCs on the following table.
References:
[1] Ankrum JA, Ong JF, et al. Mesenchymal stem cells: immune evasive, not immune privileged [J]. Nature Biotechnology. 2014, 32 (3): 252–60.
[2] Mahla RS. Stem Cells Applications in Regenerative Medicine and Disease Therapeutics [J]. International Journal of Cell Biology. 2016.
[3] Vaibhav Mundra, Ivan C. Gerling, et al. Mesenchymal Stem Cell-Based Therapy [J]. Mol Pharm. 2013 Jan 7; 10(1): 77–89.