Adipocyte
Adipocyte is also called fat cell. Once we heard the word "fat," we immediately thought of bloated bodies, unhealthy diets, and behind-the-scenes of certain chronic diseases. But do we really understand fat cells? This article collects several basic knowledge about adipocyte.
What is Adipocyte?
Adipocytes, also known as lipocytes and adipose cells, are the cells that primarily compose adipose tissue, specialized in storing energy as fat. Adipocytes are derived from mesenchymal stem cells which give rise to adipocytes through adipogenesis. Generally speaking, connective-tissue cell specializes to synthesize and contain large globules of fat.
There are two types of adipocytes: white adipose cells and brown adipose cells. White adipose cells contain large fat droplets, only a small amount of cytoplasm, and flattened, non-centrally located nuclei (Figure 1); and brown adipose cells contain fat droplets of differing size, a large amount of cytoplasm, numerous mitochondria, and round, centrally located nuclei. The adipose tissue in the human body consists mainly of single-vesicle (white) adipocytes.
Note that, obesity does not depend on the number of fat cells, but depend on the size of the fat droplets in each fat cell. An average adult has about 30 billion white adipocytes and weighs 13.5 kg. White adipocytes can increase in volume by a factor of 100, and once adipose cells accumulate and swell, they become difficult to disappear or return to their original state.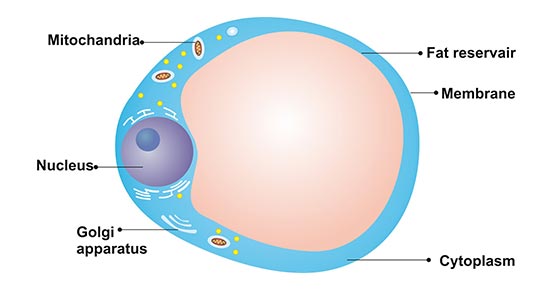 Figure 1. The Structure of Adipocyte
What is The Function of Adipocyte?
As mentioned before, adipocyte has closely relationship with obesity. The fat of white adipocytes is stored in a semi-liquid state, mainly triglycerides and cholesterol esters. This type of fat cells make up a large amount of fat in obese patients. Brown adipocytes is brown because of a large number of mitochondria in it. These mitochondria decompose and burn fat, which directly convert white fat stored in the body into heat and reduce fat accumulation. Brown adipocyte plays an important role in the development of obesity.
Actually, adipose cell besides cause fat, it still has a lot of function, store energy, and active to the brain, liver, muscle, genital organ and immune system sends powerful chemical signal, direct a variety of activity inside human body.
Fat is an important source of body heat, because it is oxidized into carbon dioxide and water in the body and release heat.
Subcutaneous adipose tissue is the segregation layer that protects the body nature, prevents body temperature to lose, because this adipose has heat preservation effect. In addition, fat also protects the internal organs, moisturizes the skin, and cushions the skin.
Fat is an important part of brain, liver, kidney and other important organs. Fat also forms bioactive substances in the body, such as phospholipids of cell membranes, glycolipids, etc.
Some fat-soluble vitamins are absorbed by the body only in the presence of fat.
Fat cells secrete leptin to coordinate the body's energy supply and storage, keeping the body's total fat relatively stable. When the concentration of leptin in human body increases to a certain amount, it acts on the hypothalamus, suppresses appetite, reduces energy intake, increases metabolic rate, and inhibits fat synthesis, thus significantly reducing body weight and fat quantity. When the serum leptin concentration decreases, the amount of food intake increases, the metabolic rate decreases, so that the body fat volume can be restored.
The Marker of Adipocyte
AIn the last section of this article, we list the most common markers of adipocyte on the following table. Adipocyte markers refer to several special proteins which distinguish adipocyte from other cell types.