Granulocyte
Granulocytes, also called polymorphonuclear leukocytes or polymorphonuclear neutrophils, are a category of white blood cells in the innate immune system characterized by the presence of granules in their cytoplasm. The shapes of the nucleus are various, which is usually lobed into three segments. This distinguishes them from the mononuclear agranulocytes. Granulocytes are produced via granulopoiesis in the bone marrow. In this article, we numerate several hot question about granulocytes.
What are Types of Granulocytes?
Granulocytes are a type of white blood cell that has small granules, which contain proteins. The specific types of granulocytes are neutrophils, eosinophils, and basophils (Figure 1). Granulocytes, specifically neutrophils, help the body fight bacterial infections. the most abundant of the granulocytes; the other types have lower numbers. Other leukocytes that are not granulocytes are mainly monocytes and lymphocytes.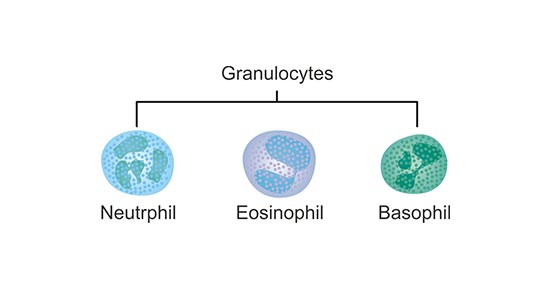 Figure 1. the main types of Granulocyte
Neutrophils are usually found in the blood, and their nucleus is divided into multiple leaves. Intracellular granules can be seen in the cytoplasm. It is the most common phagocyte, accounting for 50% to 60% of the total number of white blood cells.
The nucleus of eosinophils is also divided into multiple leaves (2 to 4 leaves). Due to a strong tendency to thresh in the blood, the number of eosinophils is variable. Basophils are one of the least common cells in the bone marrow and blood, and their number is less than 2% of the total number of cells. This cell also has a lobed nucleus, but the nucleus has only two leaves, and the chromatin connecting the two leaves is not obvious.
What is The Main Function of Granulocyte?
Typically granulocytes have a role both in innate and adaptive immune responses in the fight against viral and parasitic infections. As part of the immune response, granulocytes migrate to the site of infection and release a number of different effector molecules, including histamine, cytokines, chemokines, enzymes and growth factors.
What Does a High Granulocyte Count Mean?
This phenomenon is common in allergic diseases (asthma, urticaria, bronchopulmonary aspergillosis, allergies, eczema), certain drug reactions (penicillin, streptomycin, erythromycin, opioid, etc.), parasitic disease, nodular periarteritis and voisins syndrome, dermatosis, hematological malignancies and neobiological disorders, radiation, benzene, early scarlet fever (8% -20% of eosinophils), hyperthyroidism, endocarditis and cardiomyopathy. Moreover, acute infection and light are easy to see the increase of basophils; chronic myelogenous leukemia is significantly increased.
An increase in the number of granulocytes occurs in response to infections, autoimmune diseases, and blood cell cancers. An abnormally high white blood cell count usually indicates an infection or disease.
What is Granulocytosis?
Granulocytosis occurs when there are too many granulocytes in the blood. It's a condition that's closely related to chronic myelogenous leukemia (CML) and other bone marrow disorders. It is one condition characterized by a high white blood cell count.
CML is most common among older adults, but it can occur in people of any age. It also affects men more than women. People who have been exposed to radiation, such as radiation therapy for cancer treatment, have a higher risk of developing CML as well.
People with CML may develop the following symptoms: abnormal bleeding, frequent infections, fatigue, a loss of appetite, pale skin, pain below the ribs on the left side of the body and excessive sweating during sleep.
CML causes a buildup of underdeveloped granulocytes in the bone marrow and bloodstream. Normally, the bone marrow produces immature stem cells in a controlled way. These cells then mature and turn into red blood cells, white blood cells, or platelets.
What Does a Low Granulocyte Count Mean?
Eosinophilia is seen in typhoid, acute malaria, diabetic acidosis, hyperadrenal function, Surrenales and stress states.
However, increased eosinophils are usually associated with allergies (asthma, urticaria) and parasitic infections. Some skin diseases such as eczema and blood diseases can also be caused, and they are also related to infectious diseases. In short, an increase in eosinophils cannot diagnose the disease.
Clinical normal reference values are: 0--0.7×109/L (male) and 0-0.65×109/L (female).
The Markers of Granulocyte
In the last section of this article, we list the most common markers of Granulocyte on the following table. Granulocyte markers refer to several special proteins which distinguish Granulocyte from other cell types.