T Cell
T cell, also known as T lymphocyte, is another type of white blood cell that is an essential part of the immune system. T cells are one of two primary types of lymphocytes-B cells being the second type-that determine the specificity of immune response to antigens in the body. It is a primary "killer" in immune cell. In this article, we collect several hot questions about T cell as follows:
What is T Cell?
T cells originate from haematopoietic stem cells which are produced in the bone marrow. These stem cells then split into 2 progenitor groups, myeloid and lymphoid progenitor cells, the latter of which then differentiate into T cells and B cells.
T cells then migrate to the thymus gland, in the anterior mediastinum, to undergo the process of maturation. They enter the cortex and proliferate, mature and pass onto the medulla of the thymus. From the medulla, mature T cells enter the circulation. These mature T cells are now capable of responding to antigens in the periphery.
What are The Different Types of T Cell?
T cells mainly are divided into four types according to function and surface signs:
Helper T cells, also known as TH cells, are a distinct subset of T-cells can be identified through their expression of the CD4 co receptor and play an intermediate role in the immune response. They become activated when they are presented with peptide antigens by MHC Class II molecules, which are expressed on the surface of antigen presenting cells (APCs). Once activated, they divide rapidly and secrete cytokines that regulate or assist in the active immune response. There are various subtypes (Figure 1) present within the immune system that are able to secrete different cytokines depending on the immune response occurring.

Figure 1. The Subtypes of CD4+ Cells

Cytotoxic T cells, also called Tc cells, play a major role in cell mediated immunity, to destroy virally infected cells, tumour cells, and tissue grafts. Tc cells express CDX glycoprotein on their surface and are associated with MHC class I. The main surface marker of cytotoxic T cells is CD8, also known as killer T cells.
Regulatory T cell is responsible for regulating the body's immune response. It usually plays an important role in maintaining self tolerance and avoiding excessive immune response to damage the body. There are many types of regulatory T cells. The most active research currently is CD25+ CD4+ T cells.
Memory T cells play an important role in the re-immune response. However, no specific surface markers have been found on the surface of memory T cells. It is believed that with the deepening of research, people will have a deeper understanding of memory T cells.
What is The Difference Between T Cell and B Cell?
An important difference between T-cells and B-cells is that B-cells can connect to intact antigens right on the surface of the invading virus or bacteria. This is different from T-cells, which can only connect to parts of virus antigens on the outside of infected cells. Your body has up to 10 billion different B-cells. As the Figure 2 shows.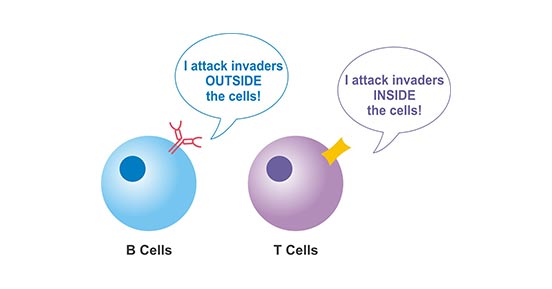 Figure 2. The Difference Between T Cell and B Cell
What is The Role of T Cell in Cancer?
T-cells play a large role in our fight against cancer. It can be very confusing to talk about the role of T cell in cancer. In this part, we focus on the ways in which T cells work to fight cancer. T-cells work in both direct and indirect ways to fight cancer. Killer T-cells kill cancer cells directly. These cells first find cancer cells and can also be stimulated to kill cancer cells. Helper T-cells fight cancer indirectly. These cells organize and orchestrate the fight against cancer. Based on the direct way, a newly emerging research therapy called immunotherapy (such as CAR-T cell therapy) involves re-engineering a patient's T-cells so that they can recognize and kill cancer cells.
Waht are The Markers of T Cell?
T Cell markers refer to several special proteins which distinguish T Cell from other cell types. In this section, we list several hot markers of T cell on the following table.