Cell Death
Cell death, a highly organized fundamental activity, is the event of a biological cell ceasing to carry out its functions. Cell death occurs in one of two ways (As the figure 1 shows). One is apoptosis, also known as programmed cell death or cell suicide, which is a physiological form of cell death and is the process of active cell death under the control of genes. Another is necrosis, which is an uncontrolled form of cell death that occurs in response to ischemia and other injuries.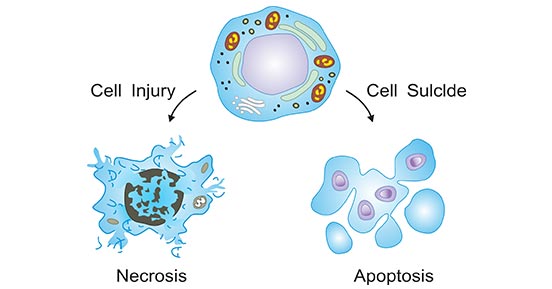 Figure 1. The two ways of cell death
In recent years, with the progress of research on the molecular mechanism of cell death, researchers have found that some cytokines can affect cell death. Cytokines are small molecule peptide factors synthesized and secreted by immune cells and non-immune cells. In this article, we primarily focus on the cytokines involved in apoptosis.
Apoptosis is a basic biological phenomenon of cells and plays a necessary role in the removal of unwanted or abnormal cells in multicellular organisms. Apoptosis is a process strictly controlled by multiple genes. These genes are very conserved between species, such as Bcl-2 family, caspase family, C-myc, P53 and so on. Cytokines involved in apoptosis primarily include IL-2, IL-3, IL-4, GMSCF, SCF, Epo, TNFɑ and TGFβ.
IL-2 and Apoptosis
IL-2 is mainly produced by activated T cells, which can promote the proliferation and differentiation of T and B cells, and enhance the killing activities of NK cells and monocytes. IL-2 can also inhibit the apoptosis of a variety of cells. In 1993, related studies found that IL-2 can promote the expression of the proto-oncogene Bcl-2 in CTLL2 cells, which is one of the killer T cell. Bcl-2 is a recognized gene that inhibits apoptosis, so IL-2 inhibits apoptosis by promoting the expression of Bcl-2. Moreover, CTLL2 cells are IL-2-dependent T cells. When IL-2 is removed during culture, apoptosis occurs quickly, and the addition of IL-2 can suppress the occurrence of apoptosis.
IL-3 and Apoptosis
IL-3, also known as multiple colony stimulating factor, is mainly produced by activated T cells, which can stimulate the proliferation and differentiation of pluripotent stem cells. In 1993, Mekori found that IL-3 can inhibit the apoptosis of IL-3 dependent mast cells. Bone marrow-derived mast cell line BMCMC and growth factor-dependent mast cell line MCP5 are both IL-3 dependent cells. IL-3 withdrawal can lead to apoptosis, confirming that IL-3 can prevent mast cell apoptosis.
IL-4 and Apoptosis
IL-4 is mainly produced by activated T cells. It has immunomodulatory effects on B cells, T cell mast cells, macrophages and hematopoietic cells. In 1996, Zamorano discovered that IL-4 can protect cells from apoptosis through the insulin receptor substrate (IRS) pathway. studies have revealed that IL-4 can mediate phosphorylation of IRS, which can increase the activity of phosphatidylinositol-3 and kinase to inhibit apoptosis.
GM-CSF and Apoptosis
GM-CSF is mainly produced by T cells, B cells, macrophages and fibroblasts. In 1996, WeiE found that polymorphonuclear leukocytes (PMN) rapidly apoptotic when cultured alone, and significantly reduced apoptosis when cultured with GM-CSF. There is a Src family of tyrosine protein kinases in PMN. Lyn is one of its members. GM-CSF can activate Lyn.
SCF and Apoptosis
SCF, also known as mast cell growth factor, is mainly produced by stem cells. It can promote the proliferation and differentiation of IL-3 dependent early hematopoietic precursor cells and promote mast cell proliferation. Early research found that SCF can inhibit mast cell apoptosis. Mast cells can express c-kit. SCF is a ligand of c-kit. After binding to c-kit on the surface of mast cells, it can activate its tyrosine kinase, thereby inhibiting cell apoptosis.
Epo and Apoptosis
Epo is mainly produced by kidney cells and can stimulate the differentiation and development of hematopoietic progenitor cells. In the process of erythropoiesis, there are two phases that depends on Epo, including the erythrocyte-like colony forming unit (CFUE) phase and the proerythrocyte phase. In 1990, Koury isolated FAV cells (the same species as erythroid hematopoietic progenitor cells and Epo dependence similar to normal CFUE) from mice infected with anemia-causing virus. When Epo is cultured in vitro, FAV cells survive and differentiate into reticulocytes. Conversely, DNA breakage in FAV cells leads to apoptosis.
TNFɑ and Apoptosis
TNFɑ is mainly produced by monocytes and macrophages. In 1995, Martin discovered that TNFɑ and interferon have a synergistic effect in promoting apoptosis. HT-29 cells are derived from colon cancer and are well-differentiated epithelial cells. The cell surface can express TNFɑ receptors. Interferon promotes the expression of TNFɑ receptors to promote apoptosis.
TGFβ and Apoptosis
TGFβ is derived from a variety of cells and plays an important role in cell growth and differentiation and immune function. TGFβ can not only promote the apoptosis of some cells, but also inhibit the apoptosis of some cells. In 1995, Lomo discovered that TGFβ can promote the apoptosis of mature B cells. When freshly isolated peripheral blood B cells were cultured in vitro, the apoptosis was slow and the rate was stable. When co-cultured with human TGFβ and B cells, the apoptosis increased significantly and was proportional to the dose. However, some studies have shown that TGFβ can inhibit activated T cell apoptosis. TGFβ can enhance the tolerance of T cells to Fas antigen-mediated apoptosis, delay the conversion of cells from apoptosis-resistant to apoptosis-sensitive, and thus inhibit apoptosis.