Cytokines and Autoimmune Diseases
Autoimmune diseases result from complex interactions among different immune cell types, including both T and B lymphocytes and professional antigen-presenting cells. Cytokines, as key elements, orchestrate the recruitment, survival, expansion, effector function and contraction of auto-reactive lymphocytes in autoimmunity [1]. Numerous studies have shown that the role of cytokines in autoimmune diseases is also multifaceted. Different cytokines participate in different autoimmune disease processes, and the same cytokine has different roles in different autoimmune diseases.
Accumulating studies conducted in experimental models of human autoimmune diseases and observations in patients have revealed a general scheme in which pro-inflammatory cytokines contribute to the initiation and propagation of autoimmune inflammation, whereas anti-inflammatory cytokines facilitate the regression of inflammation and recovery from acute phase of the disease [2]. Many scholars have divided autoimmune diseases into T-cell mediated, auto-antibody mediated, and co-mediated autoimmune diseases. In this review, we focus on the cytokines and T-cell mediated autoimmune diseases.
1. T Cell Subsets Involved in Autoimmune Diseases
Before introducing the cytokines and T-cell mediated autoimmune diseases, we illustrate the subsets of T cell and the cytokines secreted by them briefly. As the figure 1 shows, it displays the involvement of different T cell subsets and the cytokines produced by them in the pathogenesis of autoimmune disorders. There are diverse subsets of effector and regulatory T cells, and the balance in their activity is vital for an effective immune response that is proportionate to the inciting stimulus. Excessive, reduced, or aberrant cytokine responses contribute significantly to autoimmune inflammation that underlies several autoimmune diseases.
Th1, Th17, Th22, and Th9 subsets generally drive pathogenic effector responses, whereas Th2, Treg, Tr1, and Th3 subsets mediate regulatory responses. Tfh is a recently described T cell subset that plays a role in B cell activation in the lymphoid tissue. The primary cytokines secreted by various T cell subsets are shown in the figure. Also depicted are the properties displayed by various T cell subsets and/or cytokines that come into play at different stages of an autoimmune disease.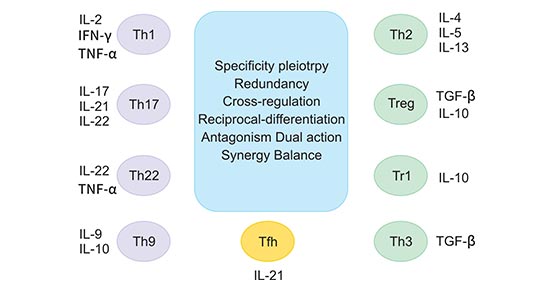 Figure 1. The involvement of different T cell subsets and the cytokines produced by them in the pathogenesis of autoimmune disorders
*This diagram is derived from the publication published on J Interferon Cytokine Res [1]
2. Cytokines Secreted by T cells and Autoimmune Diseases
As the figure 1 shows, different T cells subsets are characterized by different cytokines in the pathogenesis of autoimmune disorders. In this section, we primarily pay attention on these cytokines, including IL2, IL4, IFNγ, TNFα, IL17, IL10 and TGFβ.
IL2 and Autoimmune Diseases
Although IL-2 is well known for its ability to promote proliferation, to inhibit apoptosis and to induce cytokines, the main non-redundant function of IL-2 is to limit lymphoid expansion and promote peripheral tolerance in vivo [3]. A decade after the first description of IL-2-deficient mice, the redundancy of IL-2 as a T cell growth factor is well accepted and the focus of research has shifted to the unexpected multi-organ autoimmunity and inflammation observed in mice lacking components of the IL-2/IL-2R system [4]. IL-2- and IL-2R-deficient mice develop an autoimmune syndrome characterized by haemolytic anemia and ulcerative bowel disease. The contribution of IL-2 to autoimmune phenomena may be indirect by virtue of the role it plays in T-cell homeostasis [5].
CD4+ Tregs do not produce IL-2 but their survival and function depend on IL-2 uptake via the constitutively expressed high affinity heterotrimeric IL-2 receptor complex. When conventional CD4+ and CD8+ T cells are activated, lL-2 also promotes Th1 and Th2 development while it actively opposes the development of Th17 and Tfh cells. This dual role for IL-2 in tolerance and immunity suggests that it may have pleotropic effects in the context of autoimmune diseases [6].
IL4 and Autoimmune Diseases
IL-4, a Th2 type cytokine, activates antigen-presenting cells, including macrophages and dendritic cells (DC). Classical inflammatory pathways produce IL-1, TNF, and free radicals, which can be induced by macrophages' production of IFNγ and inhibited by IL-4. However, non-classical inflammatory cytokines such as IL-4 can induce alternative pathways of macrophage activation, enhancing its phagocytic function and expression levels of HMC II molecules. IL-4 also synergistically promoted DCs maturation with the granulocyte colony stimulating factor (GM-CSF).Therefore, in the islets of transgenic non-obese diabetic mice, IL-4 can promote the delivery of autoantigens by macrophages and DCs and activate cell expantion.
IFNγ and Autoimmune Diseases
IFN-γ, a type II interferons, is the cytokine mainly produced by NK cells and T cells that involves Th1 differentiation, has been extensively studied in both mouse and man. IFN-γ activates APCs and promotes Th1 differentiation by up-regulating the transcription factor T-bet [7]. IFN-γ induce autoimmune mechanism is unclear, but one thing is clear, namely IFN-γ can strengthen antigen presented in the target organ cells or the antigen presented (such as liver cells and abnormal thyroid cells) major histocompatibility complex molecules that promote or added to its antigen recognition and presenting features, activate their reactive T cells, which induce autoimmune diseases, such as autoimmune hepatitis and autoimmune thyroiditis.
TNFα and Autoimmune Diseases
TNFα can promote the immune tolerance of self-reactive T cells. In autoimmune demyelinating disease, TNFα inhibits the development of the disease as an anti-inflammatory cytokine. But the exact mechanisms is still unclear. Since the shift of cytokine of auto-reactive T cells to Th2 type was observed, it could be attributed to the selective inhibitory effect of TNFα on Th1 type cells. TNF induces T cell apoptosis, thereby shutting down unnecessary immune response.
But the role of TNF is sometimes dual. TNF had a pro-inflammatory effect early in the immune response, while a late injection of TNF prevented the development of islet, hormone-dependent diabetes in non-obese diabetic mice. In the first 4 weeks of non-obese diabetic mice, TNF injection or early expression of TNF through islet transgene could worsen insulin-dependent diabetes, because TNF promoted the auto-antigen recognition and presentation of antigen presenting cells and activated auto-reactive T cells instead of directly damaging pancreatic cells. The transgenic expression of TNF in the late islet of NOD mice can down-regulate the auto-reactive T cell receptor and alleviate the disease.
IL17 and Autoimmune Diseases
IL-17, also known as IL-17A, is a pro-inflammatory cytokine mainly produced by Th17 cells when in the presence of a distinct set of cytokines and other cells. Many studies have found that persistently increasing IL-17 can lead to autoimmunity and tissue damage [8]. In recent years, IL-17 has received more attention of researchers and clinicians alike with documented effects in inflammation and autoimmune diseases. IL-17 mobilizes, recruits and activates different cells to increase inflammation.
Despite protective in infections, overproduction of IL-17 promotes inflammation in autoimmune diseases such as multiple sclerosis, rheumatoid arthritis and psoriasis. Regulating IL-17 levels or action by using IL-17-blocking antibodies or IL-17R antagonist has shown to attenuate experimental autoimmune diseases. It is now known that in addition to IL-17-specific transcription factor, RORγt, several other transcription factors and select microRNAs (miRNA) regulate IL-17 [9].
IL10 and Autoimmune Diseases
L-10, a multifunctional cytokine, was originally described as a cytokine produced by Th2 cells [10]. IL-10 is required to prevent severe bystander immune tissue damage during Th1 responses to clear infectious pathogens. Regulatory T cells drawn to the site of infection are thought to be a major source of this IL-10. Until recently, a major question has been: Which cytokine(s) can induce IL-10 in effector Th1 cells? The surprise was that IL-27 is a key factor regulating Th1 responses through induction of IL-10 [11].
Increasing evidence indicates that IL-10 plays an important role in both the onset and development of autoimmune diseases, such as systemic lupus erythematosus (SLE) and multiple sclerosis (MS). Administration of IL-10 antagonists can counteract the pathologic effects of IL-10 overproduction and interfere with the immune stimulatory arm of IL-10 function. In the case of SLE, administration of anti-IL-10 mAbs reduces the expansion and activation of B cells producing anti-dsDNA antibodies [12].
TGFβ and Autoimmune Diseases
TGFβ1 has inhibitory effects on many immune functions and antagonizes the action of a number of pro-inflammatory cytokines, including IFN-γ, IL-1, IL6, IL12 and TNFα. TGF-β1 deficient mice develop multifocal inflammatory autoimmune disease and serve as a valuable animal model of autoimmunity. Local TGFβ expression is increased in IBD [13].
Naturally occurring CD4 + CD25 + regulatory T cells mediate immune suppression to limit immune-pathogenesis associated with chronic inflammation, persistent infections and autoimmune diseases. Their mode of suppression is contact-dependent, antigen-nonspecific and involves a non-redundant contribution from the cytokine TGF-β. Not only can TGF-β mediate cell–cell suppression between the regulatory T cells and CD4+ CD25– or CD8+ T cells, but new evidence also reveals its role in the conversion of CD4+ CD25– T cells, together with TCR antigen stimulation, into the regulatory phenotype [14].
3. Other Cytokines and Autoimmune Diseases
Besides these cytokines secreted by T cells, there are many other cytokines regulating T cell differentiation which also play a critical role in T cell mediated autoimmune diseases, such as IL12, IL6, and IL27.
Taking IL12 as an example, IL12 is comprised of the IL-12p35 and IL-12p40 subunits and is mainly secreted by antigen-presenting cells (APCs), such as DCs and macrophages. IL-12 induces naïve CD4+ T cells to differentiate into Th1 cells, a T-helper subset that is implicated in the etiology of a number of human autoimmune diseases. Multiple sclerosis (MS) is one of chronic CNS autoimmune diseases which IL-12-induced expansion of Th1 cells is thought to play an important role. Similar to MS, the levels of IL-12 and Th1 cells are elevated in the serum and synovial fluid of patients with rheumatoid arthritis (RA) and are correlated with disease activity [15].
References:
[1] Kamal D. Moudgil, and Divaker Choubey. Cytokines in Autoimmunity: Role in Induction, Regulation, and Treatment [J]. J Interferon Cytokine Res.2011, 31(10):695-703.
[2] O'Shea JJ, Ma A, et al. Cytokines and autoimmunity [J]. Nat Rev Immunol. 2002, 2(1):37-45.
[3] Todd, J. A. & Wicker, L. S. Genetic protection from the inflammatory disease type 1 diabetes in humans and animal models [J]. Immunity.2001, 15:387–395.
[4] Anneliese Schimpl, Ingolf Berberich, et al. IL-2 and autoimmune disease [J]. Cytokine & Growth Factor Reviews. 2002, 13: 369–378.
[5] Chen Y, Chen Y. Cytokines, lymphocyte homeostasis and self-tolerance In: Santamaria P, ed. Cytokines and Chemokines in Autoimmune Disease Austin: RG Landes Co.,2001.
[6] John Koreth, Jerome Ritz, et al. Low-dose interleukin-2 in the treatment of autoimmune disease [J]. Oncology & Hematology Review. 2014, 10(2):157–63.
[7] Lighvani, A. A. et al. T-bet is rapidly induced by interferon-γ in lymphoid and myeloid cells. Proc. Natl Acad. Sci. USA.
[8] ChristineKonya, ZivPaz, et al. Update on the role of Interleukin 17 in rheumatologic autoimmune diseases [J]. Cytokine. 2015, 2 (75): 207-215.
[9] Deena Khan and S. Ansar Ahmed. Regulation of IL-17 in autoimmune diseases by transcriptional factors and microRNAs [J]. Front Genet. 2015, 6: 236.
[10] Fiorentino DF, Bond MW, Mosmann TR. Two types of mouse T helper cell. IV. Th2 clones secrete a factor that inhibits cytokine production by Th1 clones [J]. J Exp Med. 1989, 170:2081-2095.
[11] Caroline Diveu, Mandy J McGeachy, et al. Cytokines that regulate autoimmunity [J]. Current Opinion in Immunology. 2008, 20:663–668.
[12] Amy M. Beebe, Daniel J. Cua, et al. The role of interleukin-10 in autoimmune disease: systemic lupus erythematosus (SLE) and multiple sclerosis (MS) [J]. Cytokine & Growth Factor Reviews. 2002, 13: 403–412.
[13] Christopher A.Aoki, Andrea T.Borchersa, et al. Transforming growth factor β (TGF-β) and autoimmunity [J]. Autoimmunity Reviews. 2005, 7(4):450-459.
[14] Sharon M Wahl and Wanjun Chen. Transforming growth factor-β β-induced regulatory T cells referee inflammatory and autoimmune diseases [J]. Arthritis Res Ther. 2005, 7(2):62-8.
[15] Lin Sun, Chang He, et al. Interleukin 12 (IL-12) Family Cytokines: Role in Immune Pathogenesis and Treatment of CNS Autoimmune Disease [J]. Cytokine. 2015, 75(2): 249–255.