Cytokines and Inflammatory Diseases
Inflammation is the body's normal response to illness and infection. But sometimes inflammation can be misdirected. The immune system attacks healthy tissue instead. While inflammation disease is caused by the immune system attacking the body's own tissues, resulting in inflammation, such as Alzheimer's, ankylosing spondylitis, arthritis, asthma, atherosclerosis and Crohn's disease.
Inflammation is mediated by a variety of soluble factors, including a group of secreted polypeptides known as cytokines. According to different types of inflammatory diseases, inflammatory cytokines can be divided into two groups: those involved in acute inflammatory diseases and those responsible for chronic inflammatory diseases. In this review, we focus on the cytokines involved in the acute inflammatory diseases and/or chronic inflammatory diseases.
1. What is Acute Inflammatory Disease?
Acute inflammatory disease refers to disease caused by acute inflammation. Acute inflammation is of relatively short duration, lasting from minutes to days, depending on the extent of injury, and often accompanied by fever, increased blood leukocyte counts, and appearance in plasma of acute phase proteins such as fibrinogen and C-reactive protein. Generally, acute inflammation is the early stage of inflammation, and is good for your health.
Acute inflammation is usually characterized by pain, heat, redness, swelling and loss of function. These symptoms are due to the increased blood flow and increased permeability of the vasculature which are bringing the neutrophils to the affected site as rapidly as possible. This protects the injured areas from further harm while the body goes into overdrive to fend off bacteria, viruses, pathogens, damaged cells, or other irritants. It not only kills off the invaders, but damaged tissue as well, until your body wins the battle.
2. Cytokines Involved in Acute Inflammatory Disease
As mentioned before, cytokines are small proteins produced by cells, and mediate between other cells for normal functioning by reacting with certain cell receptors. In the case of inflammation, certain cytokines trigger responses to fight infection or injury. The body responds by targeting the injured or infected area with other cells to fight the damage. Figure 1 shows several cytokines involved in the acute and chronic inflammatory diseases.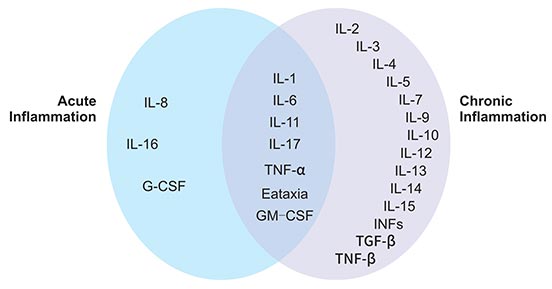 Figure 1. Cytokines involved in acute and chronic inflammatory responses
*This diagram is derived from the publication published on Frontiers in Bioscience 2 [2]
Several cytokines play key roles in mediating acute inflammatory reactions, namely IL-1, TNFα, IL-6, IL-11, IL-8, G-CSF, and GM-CSF. In this section, we discuss only those critical for acute inflammation, including TNFα, IL-1, IL-8 and IL17.
TNFα and Acute Inflammatory Disease
Leukocyte migration from the peripheral blood to extravascular sites is a key feature of the inflammatory response. TNFα is secreted by both immune and parenchymal cells at sites of inflammation and can promote immune cell extravasation by activating endothelial cells to express adhesion molecules for immune cells. TNFα in some sense are master regulatory of inflammation as they induce the expression of many other inflammatory cytokines and chemokines. TNFα and IL-1 share several pro-inflammatory properties. Like IL-1, TNFα can induce fever, either directly via stimulation of PGE2 synthesis by the vascular endothelium of the hypothalamus, or indirectly by inducing release of IL-1.
Philippe A. Tessier, et al. found that administration of superantigens into the air pouch led to a rapid, transient accumulation of immunoreactive TNFα in the acute inflammation animal model induced by staphylococcal enterotoxin A (SEA, one of superantigens). In the same study, they also found that prior treatment of mice with neutralizing Abs against TNFα effectively inhibited leukocyte recruitment to the air pouch. These observations are consistent with a role for TNFα as a secondary mediator of superantigen-induced leukocyte accumulation in vivo [3] [4].
IL1 and Acute Inflammatory Disease
IL-1 family consists of IL-1α and IL-1β. They are primarily produced by mononuclear phagocytes, fibroblasts, keratinocytes, and T and B lymphocytes. Like TNFα, IL-1 also is one of pro-inflammatory cytokine and play a critical role in inflammation. Both IL-1α and IL-1β can trigger fever by enhancing prostaglandin E 2 (PGE2) synthesis by the vascular endothelium of the hypothalamus and can stimulate T cell proliferation. In addition, IL-1 elicits the release of histamine from mast cells at the site of inflammation. Histamine then triggers early vasodilation and increase of vascular permeability.
In acute cerebrovascular disease, one of acute inflammatory diseases, cytokines of the IL-1 family, namely the IL-1α and IL-1β isoforms, are strongly implicated in sterile inflammatory responses that worsen acute cerebrovascular disease [5] [6]. In a healthy brain, IL-1 is undetectable, but it is expressed after an injury or during disease.
IL-8 and Acute Inflammatory Disease
Neutrophil infiltration into inflammatory sites is one of the hallmarks of acute inflammation. Locally produced chemotactic factors are presumed to mediate the sequence of events leading to the infiltration at inflammatory sites. IL-8, a prototype of C-X-C chemokines, is produced at sites of inflammation and promotes neutrophil chemotaxis to the site of injury.
Three decades ago, N. Mukaida, et al. have reported that the administration of a neutralizing antibody to IL-8 prevented neutrophil-mediated tissue injury, as well as neutrophil infiltration, in several animal disease models. Moreover, they also found that an anti-IL-8 antibody effectively prevented two models that are very relevant to clinical situations; endotoxemia-induced acute respiratory distress syndrome (ARDS)-like lung injury and cerebral reperfusion injury [7].
IL17 and Acute Inflammatory Disease
Acute inflammation following sterile injury is both inevitable and necessary to restore homeostasis and promote tissue repair. IL17 (IL-17A) was first identified in 1988 and was termed chicken T lymphocyte Antigen -8 (CTLA -8) as it was found in their reticuloendothelial system. Although the role of IL17 in chronic disease states, such as rheumatoid arthritis, psoriasis and cancer has been well studied, its significance in acute inflammation following surgery, sepsis, or traumatic injury has not been well studied. Recently, accumulating evidences have showed that IL17 plays a vital role in mounting a rejection response after various organ transplantations and its serum levels have also been found to be a good prognostic indicator of acute organ rejection in kidney, liver, and small bowel transplantations [8] [9] [10].
3. What is Chronic Inflammatory Disease?
A chronic inflammatory disease is a medical condition which is characterized by persistent inflammation (also called chronic inflammation). Patients develop a chronic inflammatory disease because the immune system has an inappropriate response to something it has been exposed to.
Chronic inflammation, also known as prolonged inflammation, causes considerable damage to the tissues of the body and leads to a progressive shift in the type of cells present at the site of inflammation and is characterized by simultaneous destruction and healing of the tissue from the inflammatory process.
Some examples of inflammatory diseases that become chronic include: celiac disease, vasculitis, lupus, chronic obstructive pulmonary disease (COPD), irritable bowel disease, atherosclerosis, arthritis, and psoriasis.
4. Cytokines Involved in Chronic Inflammatory Disease
Several cytokines play key roles in mediating chronic inflammatory reactions, namely IL3, IL6, TNFβ, IL4, IL5, IL7, IL9, IL10, IL13, IL14, IFN, and so on. In this section, we discuss only those critical for chronic inflammation, including IL6, IL4, IL7 and IL9.
IL6 and Chronic Inflammatory Disease
IL6 is produced at the site of inflammation and plays a key role in the acute phase response as defined by a variety of clinical and biological features. At the beginning of acute inflammation, IL-6 mediates the acute phase responses. When its activity as a pro-inflammatory cytokine persists, acute inflammation turns into chronic inflammation that includes immune responses [12].
In chronic inflammation, IL-6 has a detrimental role that favours mononuclear cell accumulation at the site of injury, through continuous MCP-1 secretion, angioproliferation and anti-apoptotic functions on T cells [13]. This may increase serum levels of IL-6 and provide the basis for the amplification step of chronic inflammatory proliferation. Plasmacytosis and hyperplasia of synovial cells in the joints of patients with rheumatoid arthritis (RA) are a typical example of chronic inflammatory proliferation.
IL4 and Chronic Inflammatory Disease
IL-4 is expressed as a 15-19 kDa protein and exists as a dimer. IL-4 is produced by CD4+ cells, mast cells, and basophils. It induces CD4+ T cells to differentiate into Th2 cells. It also acts as a B cell, T cell, and mast cell growth factor, it enhances class II MHC expression on B cells, and it promotes immunoglobulin class switching to IgG1 and IgE. IL-4 also stimulates collagen and IL-6 production by human dermal fibroblasts, and may thus play a role in the pathogenesis of fibrotic diseases such as systemic sclerosis. In rheumatoid arthritis, IL-4 appears to exhibit some anti-inflammatory properties by inhibiting the production of several pro-inflammatory cytokines such as IL-1, IL-6, IL-8, and TNF-α, by synovial membranes of rheumatoid arthritis patients.
IL7 and Chronic Inflammatory Disease
IL-7 is a non-classical cytokine, because it is produced essentially by non-hematopoietic stromal cells and acting vitally on the majority of immune cells. IL-7 is produced by epithelial and mesenchymal cells in lymphopoietic tissues. But immune cells such as T cells, B cells and natural killer (NK) cells do not produce IL‑7, although small amounts of IL-7 could be produced by some subsets of dendritic cells. Almost all conventional mature T lymphocytes express the IL-7 receptor (IL-7R), with the exception of naturally-occurring regulatory T-cells (Treg), constituting a rare opportunity to selectively strangle pathogenic effectors while preserving crucial natural regulators.
Based on this concept, many preclinical studies in rodents have highlighted that targeting the IL-7/IL-7R pathway holds promise for the treatment of IMID or to prevent transplant rejection and has the potential to restore immune tolerance. Deregulated IL-7/IL-7R signaling and numerous increased risk association with IL-7R polymorphisms have been observed in patients suffering from IMID (such as multiple sclerosis, type 1 diabetes, rheumatoid arthritis, inflammatory bowel diseases) [14].
IL9 and Chronic Inflammatory Disease
IL-9 was first discovered as a 30- to 40-kDa protein derived from murine helper T cell clones after stimulation with concanavalin A [15]. A human homologue of IL-9 was discovered and it was found that this cytokine is also produced by activated human T cells. Recent studies have highlighted a crucial regulatory role of the cytokine IL-9 in the pathogenesis of many chronic inflammatory and autoimmune diseases ranging from inflammatory bowel diseases and multiple sclerosis to lupus erythematosus, food allergy and asthma [16] [17] [18]. IL-9 activates various types of immune and non-immune cells carrying the membrane bound IL-9R. IL-9 signaling plays a pivotal role in controlling the differentiation and activation of these cells by inducing the Jak/STAT pathway.
In particular, IL-9 induces activation of T helper cells and affects the function of various tissue resident cells in the mucosa. Importantly, recent findings suggest that blockade of IL-9 signaling is effective in treating experimental models of autoimmune and chronic inflammatory diseases.
References:
[1] Brown B.N., Badylak S.F. The Role of the Host Immune Response in Tissue Engineering and Regenerative Medicine [J]. Principles of Tissue Engineering: Fourth Edition. 2013, 497-509.
[2] Carol A. Feghali, and Timothy M. Wright. Cytokines in acute and chronic inflammation [J]. Frontiers in Bioscience 2. 1997, January 1, 12-26.
[3] Philippe A. Tessier, Paul H. Naccache, et al. Induction of Acute Inflammation In Vivo by Staphylococcal Superantigens. II. Critical Role for Chemokines, ICAM-1, and TNFα [J]. J Immunol. 1998; 161:1204-1211.
[4] L. SCHNELL, DPHIL, et al. Cytokine-induced Acute Inflammation in the Brain and Spinal Cord [J]. Journal of Neuropathology and Experimental Neurology. 1999, 58(3):234-245.
[5] James Galea and David Brough. The role of inflammation and interleukin-1 in acute cerebrovascular disease [J]. J Inflamm Res. 2013, 6: 121–128.
[6] Lucas SM, Rothwell NJ, et al. The role of inflammation in CNS injury and disease [J]. Br J Pharmacol. 2006, 147:S232–S240.
[7] N. Mukaida, T. Matsumoto, et al. Inhibition of neutrophil-mediated acute inflammatory injury by an antibody against interleukin-8 (IL-8) [J]. Inflamm. res. 1998, 47, Supplement 3, S151–S157.
[8] O. Millan, L. Rafael-Valdivia, et al. Should IFN-gamma, IL-17 and IL-2 be considered predictive biomarkers of acute rejection in liver and kidney transplant? Results of a multi-centric study [J]. Clin. Immunol. 2014, 154: 141–154.
[9] L. Ma, H. Zhang, K. Hu, G. et al. The imbalance between Tregs, Th17 cells and inflammatory cytokines among renal transplant recipients [j]. BMC Immunol. 2015, 16.
[10] Vikas Sud a, Andrew Abboud, et al. IL-17A – A regulator in acute inflammation: Insights from in vitro, in vivo and in silico studies [J]. Cytokine. 2018.
[11] D. Metcalf. The colony stimulating factors. Discovery, development, and clinical applications [J]. Cancer. 1990, 65, 2185-95.
[12] Cem Gabay. Interleukin-6 and chronic inflammation [J]. Arthritis Res Ther. 2006, 8(Suppl 2): S3.
[13] Atreya R, Mudter J, et al. Blockade of interleukin-6 trans-signaling suppresses T-cell resistance against apoptosis in chronic intestinal inflammation: evidence in Crohn's disease and experimental colitis in vivo [J]. Nat Med. 2000, 6:583–588.
[14] Lyssia Belarif, Bernard Vanhove, et al. Full antagonist of the IL-7 receptor suppresses chronic inflammation in non-human primate models by controlling antigen-specific memory T cells [J]. Cell Stress. 2018, 2(12): pp. 362 – 364.
[15] C. Uyttenhove, R.J. Simpson, et al. Functional and structural characterization of P40, a mouse glycoprotein with T-cell growth factor activity [J]. Proc. Natl. Acad. Sci. U. S. A. 1988, 85: 6934–6938.
[16] G. Ruocco, S. Rossi, et al., T helper 9 cells induced by plasmacytoid dendritic cells regulate interleukin-17 in multiple sclerosis [J]. Clin Sci (Lond.). 2015, 129: 291–303.
[17] R.X. Leng, H.F. Pan, et al. Potential roles of IL-9 in the pathogenesis of systemic lupus erythematosus [J]. Am. J. Clin. Exp. Immunol. 2012, 1: 28–32.
[18] Markus F. Neurath and Susetta Finotto. IL-9 signaling as key driver of chronic inflammation in mucosal immunity [J]. Cytokine & Growth Factor Reviews. 2016 29():93-9.