Cytokine Inhibitor
Cytokines are a class of cell-regulating proteins with important biological activities. Most of them are peptides, such as interleukins (ILs), interferons (INFs), colony-stimulating factors (CSFs) and tumor necrosis factors (TNFs). Cytokines are low or not expressed in normal organisms, and are transcribed and translated during abnormal states (disease and defense). Cytokines regulate cellular responses in inflammation. Excessive cytokines can cause systemic or local toxic reactions, such as cytokine storms, so it is necessary to strictly control the levels of cytokines by inhibiting the synthesis and release of cytokines, or using an antagonistic mechanism to limit its activity. So cytokine inhibitors are produced. So what exactly is a cytokine inhibitor? What mechanism does it use to control the levels of cytokines?
What is Cytokine Inhibitor?
Cytokine inhibitors usually refer to a heterogeneous group of drugs with one of four features as follows:
Drugs inhibit the synthesis of cytokines by Reducing the number of cytokine producing cells without affecting viability of cells;
Decreasing their concentration in free active form;
Blocking their interaction with specific receptors;
Interfering with the signaling of cytokine receptors (Figure 1).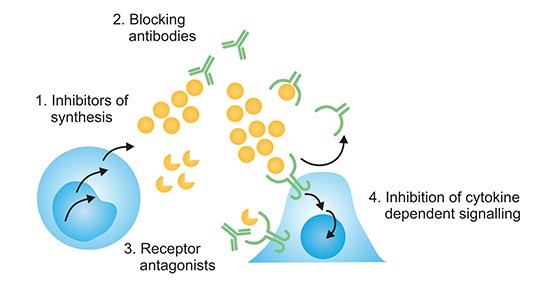 Figure 1. The features of cytokine inhibitors
What Mechanism Does It Use to Control The Levels of Cytokines?
Generally speaking, inhibition of cytokines can be achieved through protease degradation, cytokine regulation, and inhibition through the signal transduction of the receptor downstream. Currently, two mechanisms have been found to control the activity of cytokines: one is the receptor antagonist (type I inhibitor protein), which is homologous to cytokines and can bind to receptor molecules without triggering biological activity. The second is a soluble receptor molecule (type II inhibitory protein), which competes with cellular receptors to bind cytokines, thereby producing an inhibitory effect.
A large number of experiments have proved that these two inhibitory responses are physiologically related. It is now generally believed that type II inhibitors have a buffer-like neutralizing effect, thereby limiting the systemic effects of cytokines. At the same time, cytokines are allowed to reach high concentrations locally, thereby enhancing the role of paracrine.
Several Common Cytokine Inhibitors
In this section, we introduce several common cytokine inhibitors in brief.
Antibodies Against Cytokines or Their Receptors

Trace amounts of anti-cytokine antibodies can be detected in normal humans. The function of these antibodies remains to be further explored. Some of these antibodies can play a role in inhibiting cytokines, while others may extend the half-life of cytokines. Antibodies obtained by using cytokines or their receptors as immunogens to immunize animals, especially certain monoclonal antibodies can have a strong inhibitory effect on cytokines and can be used to treat diseases caused by cytokines.

At present, some anti-cytokine monoclonal antibodies have entered the stage of human trials, such as anti-human IL-6 monoclonal antibodies for rheumatoid arthritis, anti-human IL-2 receptor antibodies or anti-TNF antibodies for acute graft-versus-host response, anti-human IL-6 receptor for multiple myeloma.

Soluble Cytokine Receptor

It is possible to selectively express the cytokine receptor extra-membrane region in engineered cells with genetic engineering technology. This soluble cytokine receptor specifically binds to cytokines, preventing it from binding to receptors on the membrane surface, and then inhibiting cytokines. Because the genetically engineered soluble cytokine receptor has the same structure as its own component and is not recognized by the autoimmune system, it is more superior in clinical applications than exogenous anti-cytokine antibodies. Ashkenazi fuses the outer membrane region of human type I TNF receptor with IgG1Fc gene and expresses double-stranded soluble TNF receptor immunoadhesin in eukaryotic cells. It has a higher affinity for TNF than normal TNF receptors Times and significantly inhibited endotoxin shock in mice.

Cytokine Receptor Antagonist

The most important natural cytokine receptor antagonist discovered to date is the IL-1 receptor antagonist (IL-1ra). It specifically binds to the IL-1 receptor and blocks the biological activities of IL-1α and IL-1β. A large number of animal experiments have confirmed that IL-1ra can effectively inhibit endotoxin shock, graft-versus-host response, arthritis, confirmatory bowel disease and ischemia-reperfusion injury.

In addition to natural cytokine receptor antagonists, artificial receptor antagonists can also be constructed through protein engineering techniques. For example, Kruse replaced the 124 amino acid of human IL-4 from tyrosine with aspartic acid through targeted point mutation. This mutated IL-4 can still bind to the IL-4 receptor, but it loses the IL-4 activity that stimulates T cells and CD23+ B cells, thereby preventing the action of wild-type IL-4.