Lymphocytes Cytokines
Everybody has red blood cells (RBCs) and white blood cells (WBCs) in their circulation. RBCs give the blood its color. WBCs are the cells of the immune system that are involved in protecting the body against both infectious disease and foreign invaders, and the lymphocyte is one of them. Lymphocytes are important in health and disease, and can produce cytokines, which are small proteins that are important for immune system responses, inflammation, and infections. These cytokines are also called lymphocytes cytokines. Before knowing the lymphocytes cytokines, we introduce the function and types of lymphocytes at first.
What is The Function of Lymphocytes?
Lymphocytes, a type of white blood cells are the smallest white blood cells. They are produced by lymphoid organs and are important cellular components of the body's immune response. lymphocytes are the cells that determine the specificity of the immune response to infectious microorganisms and other foreign substances. In human adults lymphocytes make up roughly 20 to 40 percent of the total number of white blood cells. They exist in the circulation and also are concentrated in central lymphoid organs and tissues, such as the spleen, tonsils, and lymph nodes, where the initial immune response is likely to occur.
What are The Types of Lymphocytes?
According to the migration, surface molecules and functions of lymphocytes,lymphocytes can be divided into T lymphocytes (T cells), B lymphocytes (B cells) and natural killer (NK) cells (Figure 1). Both T cells and B cells are antigen-specific lymphocytes, and their original source is the same, both from hematopoietic tissues. T lymphocytes circulate to the thymus with blood and mature under the action of thymic hormones, while B cells differentiate and mature in the bone marrow.
T cells destroy the body's own cells, including cancerous cells or those that have been taken over by viruses. B cells produce antibodies. The antibodies attack cells foreign to the body. NK cells kill tumor cells and virus-infected cells. Among of them, T cells and B cells are the two main types of lymphocytes.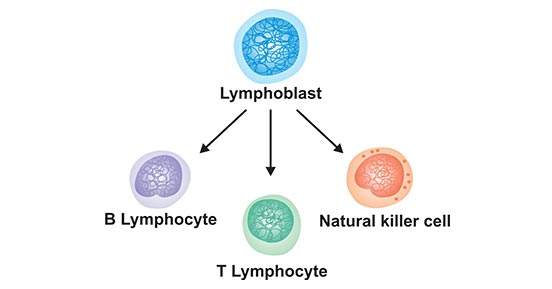 Figure 1. The types of lymphocytes
What Kinds of Cytokines Produced by Lymphocytes?
As mentioned earlier, lymphocytes come in two main types, B-cells and T-cells. In this section, we focus on the cytokines produced by B-cells and T-cells.
Cytokines Produced by B Cells
Except for presenting antigen, B cells can also influence immune responses by producing cytokines. But note that, the ability to produce cytokine of B cells depends on their differentiation state and activation conditions, the native activated B cell can not produce cytokine. It has been known for many years that normal human and murine B cells produce a wide array of cytokines including suppressive cytokines like IL-6, IL-10 and TGFβ1, polarizing cytokines such as IL-4, IFN and IL-12 and lymphoid tissue-organizing cytokines like TNFɑ and lymphotoxin.
Cytokines Produced by T Cells
T cells come from the bone marrow and mature in the thymus. Different types of T cells include killer, helper, regulatory, memory, and natural killer T cells. Different types of T cells can produce different cytokines. Unlike B cells, naïve T cells produce multiple cytokines upon activation. T cells can produce cytokines such as the interleukins which further stimulate the immune response. More information about T cells cytokines>>