Inflammatory Response
An inflammatory response, also called inflammation, is a defense mechanism that combats injury or disease. When tissues is damaged or infected by toxins or bacteria or injured by heat or other causes, it will enter a normal state of self-protection and injury repair-inflammation. So inflammatory response also is a defense response of the body to stimulation. The normal inflammatory response is a manifestation of the body's immunity, which is beneficial to the body. However, inflammation is also potentially harmful, and if not properly handled in time, it will also cause dysfunction of the body, such as cytokine storm. The typical symptoms of inflammatory response include swelling and hot in the affected area. And redness, pain and tenderness are associated symptoms of inflammation.
Inflammation causes the cells affected by injury to release chemicals as a response. These released chemicals are usually known as inflammatory cytokines. So what are inflammatory cytokines and the types of inflammatory cytokines?
What are Inflammatory Cytokines?
Cytokines are proteins that are produced by cells, and serve as molecular messengers between cells. Cytokines interact with cells of the immune system in order to regulate the body's response to disease and infection, as well as mediate normal cellular processes in the body. Cytokines may act on the cells that secrete them (autocrine action), on nearby cells (paracrine action), or in some instances on distant cells (endocrine action). Inflammatory cytokines refer to the cytokines regulating various inflammatory responses.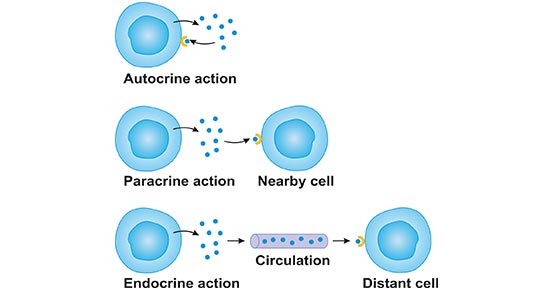 Figure 1. The Properties of Cytokines
What are The Types of Inflammatory Cytokines?
There are both pro-inflammatory cytokines and anti-inflammatory cytokines in inflammatory response. Pro-inflammatory cytokines (such as TNF and IL-6) can help activate many types of immune cells and promote inflammation. Anti-inflammatory cytokines can activate certain other cells and decrease the inflammatory response.
Pro-inflammatory Cytokines
Pro-inflammatory cytokines play a central role in inflammatory diseases of infectious or noninfectious origin. Pro-inflammatory cytokines are produced predominantly by activated macrophages and are involved in the up-regulation of inflammatory reactions. IL-1β, IL-6, TNF-α, IL-8, IL-12, IFN-γ and IL-18 are the typical pro-inflammatory cytokines. These cytokines serve to contain and resolve the inflammatory foci through activation of local and systemic inflammatory responses.
IL-1β is released primarily by monocytes and macrophages as well as by non-immune cells during cell injury, infection, invasion, and inflammation. TNF triggers a cytokine cascade of the anti-inflammatory cytokines that block pro-inflammatory cytokine synthesis, as well as cytokine inhibitors that block pro-inflammatory cytokine actions. IFN-γ is an example of the pleiotropic nature of cytokines. Like IFN-α and IFN-β, IFN-γ possesses antiviral activity. IFN-γ is also an activator of the pathway that leads to cytotoxic T cells. However, IFN-γ is considered a pro-inflammatory cytokine because it augments TNF activity and induces nitric oxide (NO).
Anti-inflammatory Cytokines
The anti-inflammatory cytokines are a series of immune-regulatory molecules that control the pro-inflammatory cytokine response. Cytokines act in concert with specific cytokine inhibitors and soluble cytokine receptors to regulate the human immune response. Their physiologic role in inflammation and pathologic role in systemic inflammatory states are increasingly recognized. Major anti-inflammatory cytokines include IL-1 receptor antagonist (IL-1ra), IL-4, IL-10, IL-11, and IL-13. Leukemia inhibitory factor, INF-α, IL-6, and TGF-β are categorized as either anti-inflammatory or pro-inflammatory cytokines, under various circumstances. Specific cytokine receptors for IL-1, TNF-α, and IL-18 also function as inhibitors for pro-inflammatory cytokines.