What Cells Release Cytokines?
Cytokines are low molecular weight soluble proteins induced by immunogens, mitogens or other stimulants in a variety of cells. It has various functions such as regulating innate immunity and adaptive immunity, hematopoiesis, cell growth, and repair of damaged tissues.
As you know, cytokines are produced by a broad range of cells, including immune cells like macrophages, B lymphocytes, T lymphocytes and mast cells, as well as endothelial cells, fibroblasts, and various stromal cells; a given cytokine may be produced by more than one type of cell. In this article, we focus the cells producing cytokines.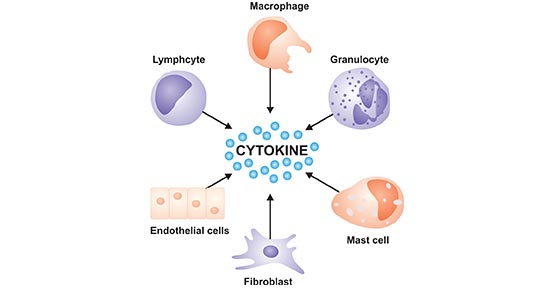 Figure 1. The main types of cell producing cytokines.
The Classification of Cytokines
According to the different types of cells producing cytokines, cytokines can be divided into three types as follows:
Lymphokine is mainly produced by lymphocytes, including T lymphocytes, B lymphocytes and NK cells. Important lymphokines are IL-2, IL-3, IL-4, IL-5, IL-6, IL-9, IL-10, IL-12, IL-13, IL-14, IFN-γ, TNF-β, GM-CSF and neuroleukin, etc.
Monokine is mainly produced by monocytes or macrophages, such as IL-1, IL-6, IL-8, TNF-α, G-CSF and M-CSF.
The Types of Cell Producing Cytokine
In this section, we primarily introduce the cells producing cytokines, involving T lymphocytes, B lymphocytes, NK cells and macrophages.
T lymphocyte, also called T cell, a type of leukocyte (white blood cell) that is an essential part of the immune system. The release of cytokines is important to many aspects of T cell function. For example, IL-1 is involved in T cell activation; IL-2 is a potent T cell growth factor which is critical to the long-term proliferation of activated T cells. Additionally, immuno-suppressive cytokines such as TGF-β and IL-10, are important for regulatory T cell actions.
B lymphocytes, also known as B cell, don't attack and kill cells, viruses or bacteria themselves. Instead, they manufacture proteins called antibodies that actually stick to the surface of invaders, disabling those invaders and spotlighting them for clean up by other parts of your immune system. B cells produce cytokines and can be subdivided into discrete cytokine-producing "regulatory" and "effector" B subsets. Regulatory B cells, also called Breg, are distinguished by their ability to secrete IL-10 or TGFβ1, while effector B cells produce cytokines such as IL-2, IL-4, TNFα, IL-6 (Be-2 cells) or IFNγ, IL-12 and TNFα (Be-1 cells).
NK cells, also known as natural killer cells, are innate lymphoid cells important for host defense against pathogens and mediate antitumor immunity. NK cells represent an important source of immunoregulatory cytokines and chemokines. Animal models have demonstrated a dependence on NK cell-derived cytokines in early responses to obligate intracellular parasite. In many of these systems, NK cells respond to cues from sentinel immune cells. These cues are communicated by release of cytokines, including IL-1, IL-10, IL-12, IL-15, and IL-18.
Macrophages are phagocytic cells of the innate immune system that are located in various tissues, and are the body's first line of defense and have many roles. A macrophage is the first cell to recognize and engulf foreign substances (antigens). Macrophages break down these substances and present the smaller proteins to the T lymphocytes.moreover, macrophages also produce substances called cytokines that help to regulate the activity of lymphocytes, including TNF, IL-1, IL-6, IL-8, and IL-12.