Cytokine Signal Transduction
As mentioned on the article named "What is The Function of Cytokine?", cytokines are secreted proteins that regulate diverse biological functions. They exert their biological functions through specific receptors expressed on the cell surface to activate complex signal transduction pathways, including the Janus kinase-signal transducer and activator of transcription (JAK-STAT) pathway, insulin receptor substrate (IRS) proteins, phosphatidylinositol 3 kinase (PI3K), and the Ras/mitogen activated protein (MAP) kinase cascade, etc. Among of them, the JAK-STAT pathway is currently well-studied and is the mainstream. In this article, we primarily focus on the JAK-STAT pathway and related cytokines.
The Cytokines Involved in JAK-STAT Pathway
Cytokines regulate many cellular processes, often in concert and often via similar signal transduction pathways. The JAK-STAT signaling pathway is a major signal transduction pathway used by type I cytokines and interferons, which are also denoted as type II cytokines. Cytokines are broadly grouped as type I and type II cytokines.
The type I versus type II cytokine nomenclature is based on the 3-dimensional structure of the cytokines and their receptors. Type I cytokines share a general "up-up-down-down" 4 α-helical structure. Type I cytokines represent a large family of proteins including many interleukins (ILs) which are made by one white blood cell and act on another, including IL-2, IL-3, IL-4, IL-5, IL-6, IL-7, IL-9, IL-11, IL-12, IL-13, IL-15, and IL-21. In addition to these ILs, type I cytokines also include thymicstromal lymphopoietin (TSLP), SCF, GCSF, GMCSF, erythropoietin (EPO), thrombopoietin (TPO), LIF, oncostatin M (OSM), cardiotrophin-1 (CT-1), ciliary neurotrophic factor (CNTF); and other important proteins including leptin, growth hormone, and prolactin.
The term type II cytokines refers to the type I interferons (IFN-α/β) and type II interferons (IFN-γ) as well as IL-10 and IL-22, which, despite their designation as interleukins, are more related to interferons than to type I cytokines.
The Mechanism of JAK-STAT Signal Pathway Activated by Cytokine
As the figure 1 shows, activation of JAK-STAT signaling occurs when a cytokine binds to its receptor at the cell surface, leading to dimerization of the receptor and activation of receptor-associated JAKs. Activated JAK proteins phosphorylate the receptor, creating binding sites for STATs, which are also phosphorylated by JAK. Once phosphorylated, STAT proteins can dimerize and upon transport into the nucleus induce the transcription of many cytokine-regulated genes. On the contrast, signal transduction is repressed by three distinct mechanisms. SHP-1 is constitutively expressed and can dephosphorylate activated JAKs or receptors. PIAS proteins, also constitutively expressed, sumoylate STATs to inhibit transcriptional activation. SOCS proteins are induced in response to cytokine signaling and can inhibit JAK activity or target signaling components for ubiquitination and subsequent proteolysis.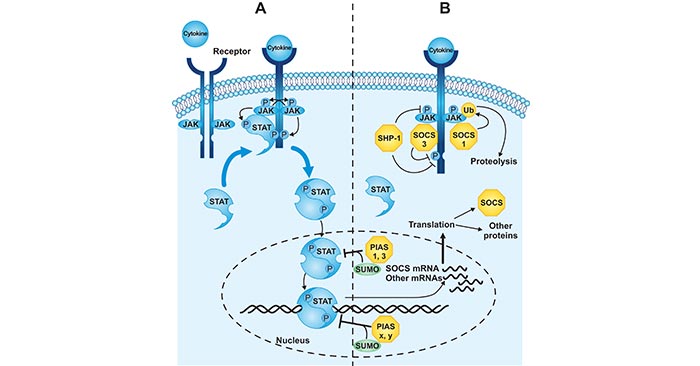 Figure 1. Regulation of the JAK-STAT signal transduction pathway
*This diagram is derived from the article published on JBC (DOI 10.1074/jbc.R300030200)
In the JAK-STAT signal pathway, JAKs and STATs activated by cytokines are different. For example, the activated JAKs of most type I cytokines sharing γc are Jak1, Jak3, such as IL-2, IL-7, IL-9, IL-15, and IL-4; and the activated STATs are Stat5a, Stat5b, Stat3 and Stat6. While, the activated JAKs of type I cytokines sharing βc (IL-3, IL-5, GM-CSF) is Jak2; and the activated STATs includes Stat5a and Stat5b. Additionally, take IFN-α/β as an example, one of type II cytokines, the activated JAKs includes Jak1 and Tyk2; and the activated STATs are Stat1 and Stat2.