Cytokine and Cancer
During cancer formation, cancer cells release various cytokines and growth factors into their surroundings and recruit and reprogram many other types of cells in order to establish a tumor microenvironment, including tumor cells, stromal fibroblasts, endothelial cells, and infiltrating leukocytes, such as macrophages, as well as T lymphocytes and tumor-associated dendritic cells (TADC). In addition, eosinophils, granulocytes, natural-killer (NK) cells, and B cells are all found in some types of tumor (Figure 1).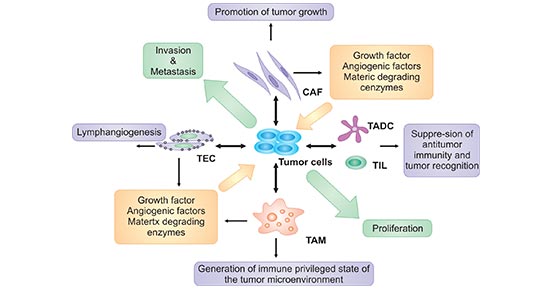 Figure 1. The components of tumor microenvironment and its relationship of cancer
*This diagram is derived from the publication published on Front Biosci [1]
A variety of cytokines that are produced in the local tumor environment by different cells has an important role in cancer pathogenesis [1]. Cytokines that are released in response to infection, inflammation and immunity can function to inhibit cancer development and progression. Accumulating clinical studies have found that the following cytokines are examined in the patients with cancer, including IL2, IL6, IL8, IL10, IL12, IL18, TNFα, TGFβ, IFNγ, macrophage migration inhibitory factor (MIF), and CXCR4 [2]. In this review, we primarily focus on the role of these cytokines in cancer.
IL2 and Cancer
IL2, mainly derived from CD4+ T cells, is a growth factor for antigen-stimulated T lymphocytes and is responsible for T-cell clonal expansion after antigen recognition in adaptive immunity. IL-2 is one of the key cytokines with pleiotropic effects on immune system. Disease progression or negative prognosis in cancer was associated with reduced IL2 concentrations or an increase in soluble IL2 receptor concentrations [2]. Several studies have revealed that IL2 stimulates tumor proliferation with an autocrine fashion in melanoma cell line [3]. Additionally, it has been approved for the treatment of metastatic renal cell carcinoma and metastatic melanoma.
The bio-function of IL-2 are mediated by the IL-2 receptor, which belongs to a type I cytokine receptor [4]. The IL-2 receptor is a trimeric complex composed of three subunits: α, β, and γ chains. The β and γ chains are involved in signaling, whereas the α chain is only involved in cytokine binding. Binding of IL-2 to its receptor leads to the activation of multiple signaling pathways with initial signal transduction involving the recruitment of JAK1 and JAK3 to the cytoplasmic domains of IL-2Rβγ or IL-2Rαβγ. Activated JAK kinases recruit and phosphorylate STAT1, STAT3, STAT5A, and STAT5B. Then, three major downstream signaling pathways including the STAT signaling pathway, the PI3K-AKT signaling pathway, and the MAPK signaling pathway are activated (Figure 2).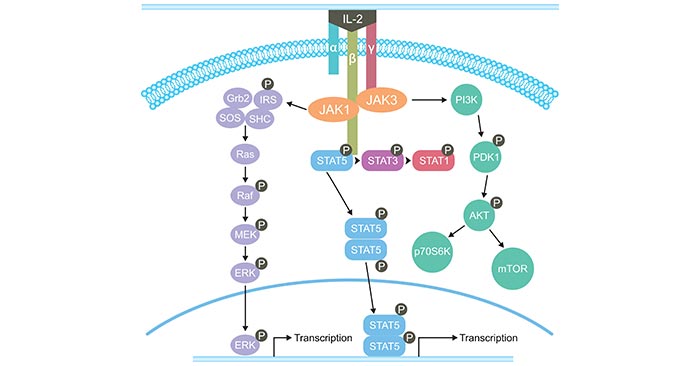 Figure 2. The signaling pathways of IL-2
*This diagram is derived from the publication published on Journal OncoImmunology [5]
IL6 and Cancer
IL-6, produced by many tumors, is an extremely pleiotropic cytokine that plays important roles in the pathogenesis of malignancy. It is an important factor which is found at high concentrations and known to be deregulated in cancer [6] [7]. Its overexpression has been reported in almost all types of tumors. The strong association between inflammation and cancer is reflected by the high IL-6 levels in the tumor microenvironment, where it promotes tumorigenesis by regulating all hallmarks of cancer and multiple signaling pathways, including apoptosis, survival, proliferation, angiogenesis, invasiveness and metastasis. Moreover, IL-6 protects the cancer cells from therapy-induced DNA damage, oxidative stress and apoptosis by facilitating the repair and induction of countersignalling (antioxidant and anti-apoptotic/pro-survival) pathways. Perhaps most important is the potent stimulation by IL-6 of signals that ultimately result in the activation of STAT-3, a crucial transcription factor in tumor-microenvironment interactions, tumor escape from immune control and angiogenesis [8].
IL8 and Cancer
IL8, also known as CXCL-8, is a member of the CXC chemokine family produced by a variety of human carcinoma cells. IL-8 mRNA can be enhanced by TNF-α, LIF, IL-1β, IL-6, IL-8, or IFN-β, indicating a pivotal role in the progression of cancers. It has further been proposed that local inflammation of the cancer environment facilitates tumor progression and metastasis. A variety of human cancer models illustrate the immune regulatory role of IL-8 within the cancer environment [9] [10] [11]. IL-8 is a chemokine that regulates polymorphonuclear neutrophil (PMN) mobilization and activity. Upon co-culturing with melanoma cells, IL-8 is up-regulated in PMNs. Melanoma cells induce IκB-α degradation in PMNs; this suggests that NF-κB signaling is essential for IL-8 secretion in PMNs. IL-6 and IL-1β from PMN-melanoma co-cultures synergistically contribute to IκB-α degradation and IL-8 synthesis in PMNs.
IL10 and Cancer
IL-10 is highly immuno-suppressive and seems to be frequently expressed by tumor cells, resulting in increased circulating serum concentrations of IL-10 in most human cancers. IL-10 has complex effects on tumor development. Many studies describe IL-10 as inhibiting tumor development and progression, while in others it is illustrated as pro-tumorigenic. IL-10 can inhibit NF-κB activation and consequently, the production of pro-inflammatory cytokines, including TNF-α, IL-6, and IL-12 [12]. IL-10 in particular has also been shown to modulate apoptosis and suppress angiogenesis during tumor regression [13]. Expression of IL-10 in mammary and ovarian carcinoma xenografts inhibits tumor growth and spread [14]. IL-10 can inhibit tumor growth by down-regulating major histocompatibility complex (MHC) class I expression, leading to enhanced NK cell–mediated tumor cell lysis. The ability of IL-10 to down-regulate VEGF, TNF-α, and IL-6 production may also account for its inhibitory effect on the tumor stroma [15].
IL12 and Cancer
IL-12, a pro-inflammatory heterodimeric cytokine, consists of 35kDa and 40 kDa subunits. IL-12 is essential for the production of IFNγ produced by T cells and NK cells. Increased expression of IL-12 should occur during a hysiological immune reaction [16]. This step seems to be negatively affected in many patients with cancer: expression of IL-12 seems to be decreased in several cancer types, particularly in late stages with larger and more advanced disease, such as anaplastic astrocytoma, glioblastoma, renal-cell cancer, head and neck squamous-cell carcinoma, malignant melanoma, colorectal cancer, and so on. IL-12 production by stimulated peripheral blood mononuclear cells decreased significantly in patients with gastric and colorectal cancer with advancing disease.
IL18 and Cancer
Except for IL-12, production of interferon-γ is influenced by IL-18, which is produced by macrophages and dendritic cells mainly. IL-18 is a member of the IL-1 family of cytokines, sharing structural features with this inflammatory mediator as well as receptor similarities and function in target cells. Like IL-12, the functions of IL-18 provide important physiological links between cells and functions of the innate and adaptive immune systems, leading to the promotion of Th1 and memory CD8 T cell development. Preclinical models have shown antitumor activity for IL-18 alone and more promising activity in combinations with either IL-2 or IL-12. In a Phase I study in patients with advanced cancer, intravenous IL-18 caused flu-like and inflammatory side effects as well as multiple mild, reversible metabolic and hematological disturbances [17] [18].
TNFα and Cancer
TNFα, also known as tumor necrosis factor, is a multifunctional cytokine that plays important roles in diverse cellular events such as cell survival, proliferation, differentiation, and death. As a pro-inflammatory cytokine, TNFα is secreted by inflammatory cells, which may be involved in inflammation-associated carcinogenesis. In regard to cancer, TNF is a double-dealer. On one hand, TNF could be an endogenous tumor promoter, because TNF stimulates cancer cells' growth, proliferation, invasion and metastasis, and tumor angiogenesis. On the other hand, TNF could be a cancer killer. The property of TNF in inducing cancer cell death renders it a potential cancer therapeutic, although much work is needed to reduce its toxicity for systematic TNF administration [19].
TGFβ and Cancer
TGF-β is a growth factor with multi-function on target cells. It plays an important regulatory role in the differentiation of tissues and cells, and can stimulate or inhibit the proliferation of various cells. In regard to cancer, TGFβ plays a dual role in human cancer. On one hand, TGFβ plays a major role in regulating cancer formation and progression. On another hand, while acting as a tumor suppressor in normal cells and early carcinomas, TGFβ switches roles to in fact promote tumor progression in more advanced invasive cancers [20]. More information about "Double-Edged Sword: TGF-β">>
IFNγ and Cancer
IFNγ is primarily secreted by CD8+T cells, CD4+ T cells, and NK cells. IFNγ activates macrophages and stimulates up-regulation of MHC class I, MHC class II, and co-stimulatory molecules on APCs. The antitumor effects of IFNγ in murine models suggested that it would be effective against a wide spectrum of malignancies. Actually, IFNγ has demonstrated limited clinical utility for the treatment of human cancer but may play a critical role in the in vivo effects of other cytokines. IFNγ inhibits the production of the immunosuppressive factors TGFβ and prostaglandin E2, whereas negative regulators of IFNγ production include IL-4, IL-10, and TGFβ.
MIF and Cancer
MIF, as a rapidly induced immunostimulatory cytokine, has been implicated in the tumorigenesis, angiogenesis, and metastasis of many cancer phenotypes [21]. It is expressed in various types of cells, including monocytes, macrophages, T and B lymphocytes, eosinophils, mast cells, basophils, and neutrophils. MIF potentially promotes tumorigenesis through inhibiting the classic tumor suppressor gene p53. p53 can promote cell-cycle arrest and apoptosis in response to DNA damage. MIF stimulates expression of the pro-inflammatory cytokines TNFα, IFN-γ, IL1β, IL 6, and IL8 in a positive feedback circuit.
CXCR4 and Cancer
CXCR4, also known to bind only CXCL12, is one of the most well-studied chemokine receptors due to its earlier found role as a co-receptor for HIV entry. Recently, accumulating studies have revealed that CXCR4 is overexpressed in more than 23 human cancers. Cancer cell CXCR4 overexpression contributes to tumor growth, invasion, angiogenesis, metastasis, relapse, and therapeutic resistance. CXCR4 antagonism has been shown to disrupt tumor–stromal interactions, sensitize cancer cells to cytotoxic drugs, and reduce tumor growth and metastatic burden [22].
References:
[1] Sheu BC, Chang WC, et al. Cytokine regulation networks in the cancer microenvironment [J]. Front Biosci. 2008, 13():6255-68.
[2] Lippitz BE. Cytokine patterns in patients with cancer: a systematic review [J]. Lancet Oncol.2013, 14(6):e218-28.
[3] Ito R, Kitadai Y, et al. Interleukin 1a acts as an autocrine growth simulator for human gastric carcinoma cells [J]. Cancer Res. 1993, 55:4102–6.
[4] Waldmann TA. The interleukin-2 receptor on normal and malignant lymphocytes [J]. Adv Exp Med Biol. 1987, 213:129–37.
[5] Tao Jiang, Caicun Zhou, et al. Role of IL-2 in cancer immunotherapy [J]. Journal OncoImmunology. 2016, 5(6).
[6] Kumari N, Dwarakanath BS, et al. Role of interleukin-6 in cancer progression and therapeutic resistance [J]. Tumour Biol. 2016, 37(9):11553-11572.
[7] Hong DS, Angelo LS, et al. Interleukin-6 and its receptor in cancer: implications for translational therapeutics [J]. Cancer. 2007, 110:1911-28.
[8] Grivennikov S Karin M. Autocrine IL-6 signaling: a key event in tumorigenesis [J]? Cancer Cell. 2008, 13:7-9.
[9] Hsin-Hsin P, L. Shile, J.H. Andrew, et al. Regulation of interleukin-8 expression in melanoma-stimulated neutrophil inflammatory response [J]. Exp Cell Res. 2007, 313, 551-559.
[10] Shile L, S. Arati, P. Hsin-Hsin, et al. Targeting Mutant (V600E) B-Raf in Melanoma Interrupts Immunoediting of Leukocyte Functions and Melanoma Extravasation [J]. Cancer Res. 2007, 67, 5814-5820.
[11] Solomayer E.F, I.J. Diel, et al. Metastatic breast cancer: clinical course, prognosis and therapy related to the first site of metastasis [J]. Breast Cancer Res Treat. 2000, 59, 271-278.
[12] Hoentjen F, R.B. Sartor, M. Ozaki, et al. STAT3 regulates NF-κB recruitment to the IL-12p40 promoter in dendritic cells [J]. Blood. 2005, 105, 689-696.
[13] Stuelten C.H, S. DaCosta-Byfield, et al. Breast cancer cells induce stromal fibroblasts to express MMP-9 via secretion of TNF-α and TGF-β [J]. J Cell Sci. 2005, 118, 2143-2153.
[14] Kohno T, H. Mizukami, et al. Interleukin-10–mediated inhibition of angiogenesis and tumor growth in mice bearing VEGF-producing ovarian cancer [J]. Cancer Res. 2003, 63, 5091-5094.
[15] Huang S, S.E. Ullrich, et al. Regulation of tumor growth and metastasis by interleukin-10: the melanoma experience [J]. J Interferon Cytokine Res. 1999, 19, 697-703.
[16] Seunghee Kim-Schulze, Bret Taback, et al. Cytokine Therapy for Cancer [J]. Surg Oncol Clin N Am. 2007, 16:793–818.
[17] Li Q, Car AL, et al. Synergistic effects of IL-12 and IL-18 in skewing tumor-reactive T-Cell responses towards a type 1 pattern [J]. Cancer Res. 2005, 65:1063 -70.
[18] Kim Margolin. Cytokine therapy in cancer [J]. Expert Opin. Biol. Ther. 2008, 8(10):1495-1505.
[19] Xia WANG and Yong LIN. Tumor necrosis factor and cancer, buddies or foes [J]? Acta Pharmacol Sin. 2008, Nov; 29(11): 1275–1288.
[20] Jean-Charles Neel, Laure Humbert, et al. The Dual Role of TGFβ in Human Cancer: From Tumor Suppression to Cancer Metastasis [J]. ISRN Molecular Biology. 2012.
[21] Ciaran O'Reilly, Mohammad Doroudian, et al. Targeting MIF in Cancer: Therapeutic Strategies, Current Developments, and Future Opportunities [J]. Medicinal Research Reviews. 2016.
[22] Samit Chatterjee, Babak Behnam Azad, et al. The Intricate Role of CXCR4 in Cancer [J]. Adv Cancer Res. 2014, 124: 31–82.