Macrophages Cytokines
Macrophages are white blood cells located in tissues, derived from monocytes, which are derived from precursor cells in the bone marrow. Both macrophages and monocytes are phagocytic cells, and participate in non-specific defense (innate immunity) and specific defense (cellular immunity) in vertebrates. Upon encountering different stimuli, monocytes turn into highly microbicidal (M1), or into immunosuppressive macrophages (M2). Stimuli can range from microbial substances to biochemical signals provided by the microenvironment of a given tissue. M1 macrophages are known to be tumor suppressive, whereas M2 macrophages generally promote tumorigenesis (Figure 1). So what cytokines produced by macrophages?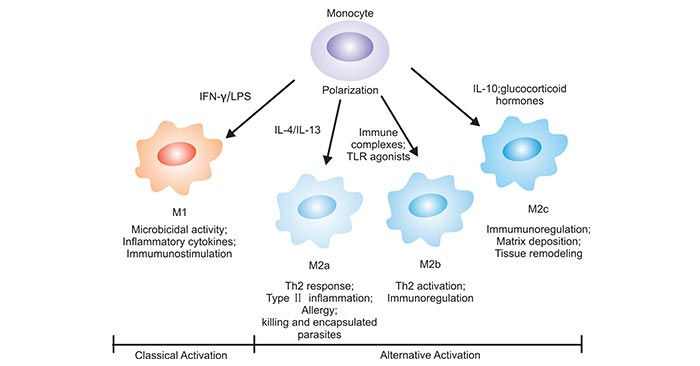 Figure 1. Monocytes can differentiate into distinct phenotypical macrophages.
What Cytokines Produced by Macrophage?
Macrophages are a type of white blood cells that engulf and digest the cellular debris, foreign substances and cancer cells. This process is called phagocytosis. They are found in essentially all the tissues. Their main function is to remove all the dead cells and tissues. Moreover, macrophages have the capacity to rapidly secrete a wide range of inflammatory mediators that influence the development and extent of an inflammatory response. Macrophage cytokines refer to series of cytokines produced by macrophages, including pro-inflammatory cytokines, anti-inflammatory cytokines and chemokines.
Pro-inflammatory Cytokines
When macrophages are exposed to inflammatory stimuli, they secrete cytokines such as tumor necrosis factor (TNF), IL-1, IL-6, IL-8, and IL-12. Although monocytes and macrophages are the main sources of these cytokines, they are also produced by activated lymphocytes, endothelial cells, and fibroblasts. Additionally, macrophages release chemokines, leukotrienes and prostaglandins. All of these molecules may induce increased vascular permeability and recruitment of inflammatory cells. Aside from local effects, these mediators also produce systemic effects such as fever and the production of acute inflammatory response proteins.
Anti-inflammatory Cytokines
Inflammation is tightly regulated by multiple inhibitors and antagonists. The main anti-inflammatory cytokines released by macrophages include IL-10 and TGF-β.
IL-10 is a 35 kD cytokine and is produced by activated macrophages, B cells, and T cells. It primarily plays a role in inhibiting macrophage activation and production of TNF, IL-1β, IL-6, IL-8, IL-12, and GM-CSF. IL-10 suppresses MHC-II expression in activated macrophages and is thus a potent inhibitor of antigen presentation. Macrophages themselves are affected by IL-10 in that exposure to this cytokine lowers their microbicidal activity and diminishes their capacity to respond to IFN-γ.
Together with IL-10, TGF-β is another powerful anti-inflammatory cytokine that acts on many target cells and tones down the inflammatory effects of TNF, IL-1β, and IL-12, etc. TGF-β is a potent suppressor of both Th1 and Th2 cells, but foments the maintenance and function of Tregs. TGF-β is also implicated in hematopoiesis and has a crucial role in embryogenesis, tissue regeneration, and cell proliferation and differentiation.
Chemokines
Chemokines are a special family of heparin-binding cytokines that are able to guide cellular migration in a process known as chemotaxis. During immune surveillance, chemokines play a crucial role in guiding cells of the immune system to where they are needed. Additionally, some chemokines also play a role during development by promoting angiogenesis, or by guiding cells to tissues that provide critical signals for the cell's differentiation. The main chemokines released by macrophages include CXCL1, CXCL2, CCL5, CXCL8 (IL-8), CXCL9, CXCL10 and CXCL11.