Th1 Cytokines
As mentioned on the article "T cell cytokine", Th1 cell is a subtype of CD4+ helper cells. Th1 cells are the quintessential cell type involved in cell mediated inflammation and delayed-type hypersensitivity reactions. They are thought to be important for immunity to intracellular pathogens.
As the figure 1 shows, TH1 cells are differentiated by Th0 cells induced by IL-12 and other cytokine. Th1 cells are CD4 positive cells and mainly secrete IFN-γ, and TNF-β, etc. The main cytokine for their execution is gamma interferon (IFN-γ), which is the most important The execution cells are macrophages. The main transcription factor is STAT4. T-bet and so on. Th1, Th2, Th3, and Th17 cells belong to different Th cell subsets differentiated by Th0.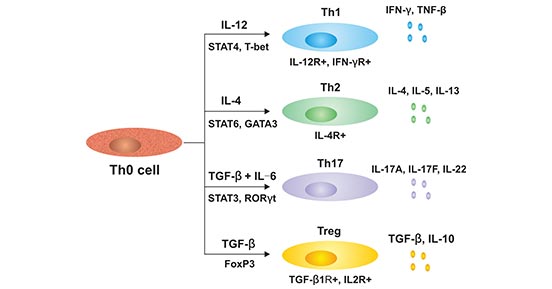 Figure 1. The subtyes of cells differentiated by Th0 cells.
In this article, we focus on the cytokines of Th1 cell differentiation and the cytokines secreted by Th1 cells.
The cytokines of Th1 Differentiation
Th1 differentiation is induced mainly by the cytokines IL-12 and IFN-y and occurs in response to microbes. The differentiation of antigen-activated CD4+ T cells to Th1 effectors is stimulated by many intracellular bacteria and some parasites, all of which infect dendritic cells and macrophages. It is also stimulated by viruses and by protein antigens administered with strong adjuvants. A common feature of these infections and immunization conditions is that they trigger innate immune reactions that are associated with the production of certain cytokines, including IL-12, IL-18, and type I interferons. All these cytokines promote TH1 development.
Among of these cytokines, IL-12 is the most potent, which promotes survival and growth of Th1 cell and sustains sufficient number of memory/effector Th1 cells. Moreover, IL-12 play a role in inhibiting the formation of Th2 cells. IL-18 synergizes with IL-12 and functions as a key growth and differentiation factor. IL-18 also is a critical inducer of IFNγ. Type I interferons may be important for Th1 differentiation in response to viral infections. IFNγ is autocrine factor in the establishment of Th1 cells and also acts on dendritic cells and macrophages to induce more IL-12 secretion. Once Th1 cells have developed, they secrete IFNγ, which promotes more Th1 differentiation and thus strongly amplifies the reaction.
The Cytokines Secreted by Th1 Cells
As mentioned earlier, Th1 cells mainly secrete IFN-γ, and TNF-β, etc. IFN-γ secreted by Th1 cells activates macrophages and inhibits Th2 lymphocyte proliferation. It also stimulates B cells to produce receptors that enhance the attachment of microbes to phagocytes. The expression of IFNγ is increased by IL-12R activation through STAT1 signals to induce the Th1 master regulator T-bet. This further increases IFNγ expression while suppressing IL-4. TNF-β produced by Th1 cells activates neutrophils to enhance their microbial killing activity during phagocytosis.
Actually, except for IFN-γ, and TNF-β, Th1 cells also are the primary source for IL-2, IL-10 and TNFα. IL-2 secreted by Th1 cells can stimulate growth, differentiation, and survival of antigen-selected cytotoxic T cell, and are necessary for T cell memory, T-cell development, and self- or non-self-recognition; IL-10 is auto-regulator of Th1 cell activation; and TNFα is a potent and pleiotropic immune activator and regulator of immune cell function.