Th17 Cytokines
As mentioned on the article "T cell cytokine", Th17 cell is a subtype of CD4+ helper cells in addition to the traditional Th1 and Th2 subtypes. Th2 helper cells are mainly immune responses against extracellular multicellular parasites. As the Figure 1 shows, they are mainly induced by TNF-β and IL-6. Under the effect of TGFβ alone, the activated Th0 cells differentiated into Foxp3+ Treg cells, and under the co-induction of TGFβ and IL-6, they differentiated into Th17 cells, that is, Th17 cells differentiation depends on TGFβ and IL-6. These cells are characterized as preferential producers of IL-17A (also known as IL-17), IL-17F, and IL-22. The main transcription factor is STAT3 and RORγt and so on. Th17 cells and their effector cytokines mediate host defensive mechanisms to various infections, especially extracellular bacteria infections, and are involved in the pathogenesis of many autoimmune diseases.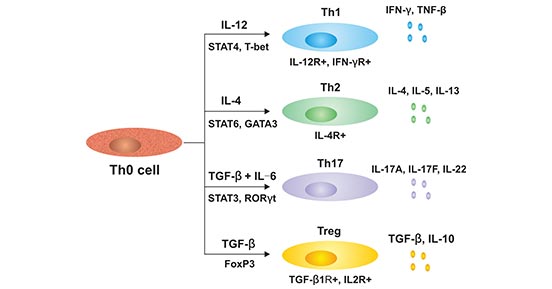 Figure 1. The subtyes of cells differentiated by Th0 cells.
In this article, we focus on the cytokines of Th17 cell differentiation and the cytokines secreted by Th17 cells.
The cytokines of Th17 Differentiation
As mentioned on the article entitled "Th1 cytokines", Th17 cells are differentiated from Th0 cells.
Differentiation of Th17 cells is controlled by a "master-regulator" transcription factor, RORγt, which directs a specific and heritable gene expression profile. RORγt was initially identified as a thymus-specific isoform of RORγ, and later, it was discovered that RORγt is also expressed in Th17 cells. RORγt deficiency results in diminished Th17 activity and severely reduced expression of IL-17. Moreover, Like Th1 and Th2, specific polarizing cytokines, TGF-β, IL-6, and IL-23, are required for differentiation of Th17 cells.
TGF-β plays an important role in the differentiation of Treg cells and Th17 cells. As mentioned earlier, activated primary CD4+ T cells differentiated into Foxp3+ Treg cells under the action of TGF-β alone; they differentiated into Th17 cells under the combined induction of TGF-β and IL-6.
IL-6 plays an important role in the early stages of various immune responsesas an immuno-regulatory factor. IL-6 can directly act on T cells and induce STAT3 activation by signal transduction of tyrosine residues of gp130. STAT3 can induce the expression of Th17 cell-specific transcription factors RORγt and RORα to promote the differentiation of Th17 cells.
IL23 is an important cytokine that regulates the immune function of Th17 cells, and has a function of promoting the proliferation of Th17 cells and maintaining the stability of cell subsets. Actually, besides these three cytokine related Th17 cells differentiation, there are several other cytokines and regulators involved in the Th17 cells differentiation, such as IL-9, IL-1, IL-23, IL-2, etc. You can obtain more information from the article entitled Differentiation of Th17 Cells.
The Cytokines Secreted by Th17 Cells
As mentioned earlier, Th17 cells mainly secrete IL-17A, IL-17F, and IL-22. IL-17 is the prototype of Th17 cytokines and isthe most important effector secreted by Th17 cells. IL-17 family includes 6 members of IL-17 (A ~ F) and 5 receptors (IL-17RA ~ IL-17RD and SEF). IL-17A was originally named CTLA8. It was subsequently renamed IL-17, and, more recently, IL-17A. IL-17A participates in the pro-inflammatory response by effectively mediating neutrophils. IL-17F and IL-17A have the most homology at the amino acid level, and also have overlapping effects in different autoimmune diseases. IL-22 produced by Th17 cells has important functions in host defense at mucosal surfaces as well as in tissue repair.
Actually, except for IL-17A, IL-17F, and IL-22, Th17 cells also are the source of IL21. IL21 exerts critical functions in Th17 cell development. IL-21 functions in an autocrine loop to amplify the Th17 cell response and induce its own expression. IL-21, like IL-6, can favor the generation of Th17 cells over Treg cells. For both IL-21 and IL-6, this switch seems to be mediated by STAT3 and RORγt.