Cytokine Receptor
As you know, cytokines generally play a biological role by binding to the corresponding cytokine receptors on the cell surface. Combining cytokines with their receptors initiates complex intracellular molecular interactions that ultimately cause changes in cellular gene transcription.
The vast majority of known cytokine receptors are transmembrane proteins, consisting of extracellular, transmembrane, and cytoplasmic regions. The extracellular membrane region is the site that recognizes binding cytokines, and the cytoplasmic region initiates signal transduction after receptor activation.
According to the structure of cytokine receptors, they can be divided into different families or superfamilies, including immunoglobulin (Ig) superfamily, type I cytokine receptors, type II cytokine receptors, tumor necrosis factor receptor (TNFR) superfamily and chemokine receptors (Figure 1).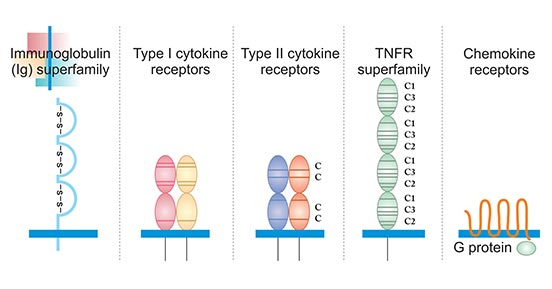 Figure 1. The typical structure of five cytokine receptors
Immunoglobulin (Ig) Superfamily
The immunoglobulin superfamily (IgSF) refers to a molecular superfamily that has a domain similar to immunoglobulin in its molecular structure. All members of the IgSF contain 1 to 7 Ig-like domains, and each Ig-like domain contains about 70 to 110 amino acid residues. Its secondary structure is an anti-parallel β-pleated sheet plane formed by two anti-parallel β-sheet strands each containing 3 to 5 anti-parallel β-sheets. Each anti-parallel β-sheet strand consists of 5-10 amino acid residues. Hydrophobic amino acids on the inner side of the beta sheet stabilize the Ig folding.
Most Ig domains have a disulfide bond vertically connecting two beta sheets, and the two cysteines that make up the disulfide bond contain about 55 to 75 amino acids. A few Ig domains, such as the first domain of CD2, LFA-3, the fourth domain of PDGFR, and the third domain of CD4, lack disulfide bonds. The folding of this spherical structure of the peptide chain is called immunoglobulin fold (Ig fold).
Type I Cytokine Receptors
Type I cytokine receptors, also known as hemopoietin receptors, are transmembrane receptors expressed on the surface of cells that recognize and respond to cytokines with four α-helical strands. These receptors have certain conserved extracellular domain and lack an intrinsic protein tyrosine kinase activity.
The conserved extracellular domain has a length of approximately 200 amino acids, which contains four positionally conserved cysteine residues in the amino-terminal region and a conserved amino acid motif (WSXWS) located proximal to the transmembrane domain. The four cysteines appear to be critical to the maintenance of the structural and functional integrity of the receptors. The WSXWS consensus sequence is thought to serve as a recognition site for functional protein-protein interaction of cytokine receptors.
Type II Cytokine Receptors
Type II cytokine receptors, also known as IFN receptors, are transmembrane proteins that are expressed on the surface of certain cells, which bind and respond to a select group of cytokines. Typically type II cytokine receptors are heterodimers or multimers with a high and a low affinity component. These receptors are generally composed of two peptide chains, the extracellular region is composed of 200 amino acid disabilities, and contains 4 discontinuous cysteine.
TNFR Superfamily
Tumor necrosis factor receptor (TNFR) superfamily members is a protein superfamily of cytokine receptors sharing a cysteine-rich domain (CRD) formed of three disulfide bonds surrounding a core motif of CXXCXXC creating an elongated molecule. There are currently 12 members of the TNFR family, including TNFR with 55 kDa and 75 kDa, low-affinity NGFR, human B cell antigen (CD40), and Fas antigen. The common feature of this family is that its extracellular region has Cys (4-6) rich pseudo-repetitive motifs, each of which contains 40 amino acid residues. The intracellular domains are short, consisting of 44 to 221 amino acid residues, without homologous sequences.
Chemokine Receptors
Chemokine receptors are cytokine receptors found on the surface of certain cells that interact with chemokines. There are 20 distinct chemokine receptors discovered in humans. Each has a rhodopsin-like 7-transmembrane (7TM) structure and couples to G-protein for signal transduction within a cell, making them members of a large protein family of G protein-coupled receptors. After binding to the corresponding ligands, chemokine receptors trigger a flux in intracellular calcium (Ca2+) ions (calcium signaling). This causes cell responses, including the onset of a process known as chemotaxis that traffics the cell to a desired location within the organism.