Tumor Immunity
Tumor (also called cancer) is the product of malignant transformation of normal cells in the body, which is characterized by continuous proliferation and metastasis in the body. Tumor immunology is the study of the relationship between tumor antigens, immune function of the body, and tumor development; the mechanism of the body's immune response to tumors and tumor cell escape; and the science of tumor immunodiagnosis and immune prevention.
The concept of tumor immunity can be traced back to 1893, which has a history of more than 100 years. In 1893, American surgeon and cancer researcher William Coley put forward the view that activating the immune system helps fight cancer. In 2013, tumor immunity was ranked first in the "Top Ten Breakthroughs of the Year" by "Science". And now it is widely used in clinical practice. Tumor immunity is in a period of rapid development. More information about tumor/cancer>>
1. What is the Tumor Antigen?
Tumor antigen (TA) refers to the immunogenic protein and glycoprotein on the surface of tumor cells or lipoprotein. Most tumor antigens are the body's own normal proteins and usually have low immunogenicity. Tumor antigens are often used as tumor markers in tumor detection and diagnosis. At the same time, it is also an important target for tumor therapy. Tumor antigens are the core issue in the field of tumor immunology.
According to the relationship between tumor antigens and tumors, tumor antigens can be divided into tumor specific antigens (TSA) and tumor-associated antigens (TAA). The former is owned by tumor cells and does not exist in normal cells. The antigen of this type has high tumor specificity; while the latter is not unique to tumor cells, and can also exist on the surface of normal tissue cells, but its content changes when the cell becomes cancerous. This type of antigen has low tumor specificity. On the following table, we compare these two types of tumor antigens from six aspects.
Category
Tumor Specific Antigen
Tumor-Associated Antigen
Expression site
Restricted to tumors
Mostly restricted to tumors, sometimes expressed in normal tissue
origin
Mutated peptides derivers from genomic alterations
Abnormal gene expression
Subset
Public neoantigens
Priyase neoantigens
Overexpressed proteins
Differentiation antigens
Cancer antigens
Specificity
Ideal
/
Variable
Variable
Good
Central tolerance
None
/
High
High
Low
Prevalence across multiple cancers
High
Low
High
High
High in certain cancers
2. What is Tumor Immune Response?
The body's immune system eliminates tumor cells or inhibits their growth in many ways. The body's anti-tumor immune response includes cellular immunity and humoral immunity. Cellular immunity is the main tumor immune response method. As a specific immune response, it mainly produces an immune response to solid tumor cells with strong antigenicity. Humoral immunity, a non-specific immune response plays a synergistic effect. It mainly produces immune responses against tumor cells that are weakly antigenic and in a free state.
3. How does Immune System Eradicate Cancer Cells?
Here, we focus on cellular immunity, the human immune system is theoretically capable of eradicating cancer cells through an acquired immune response executed by T cells. This process involves a series of stepwise events, called the 'cancer–immunity cycle' [1]. As the Figure 1 shows, the cancer–immunity cycle comprises six major steps, including releasing, presenting, priming, trafficking, infiltrating and attacking.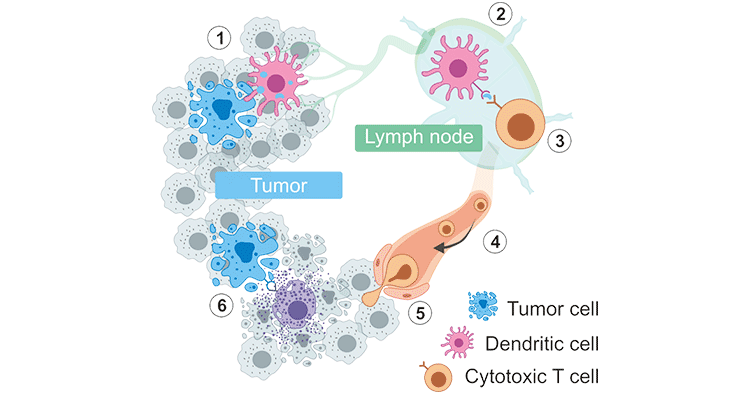 Figure 1. The Cancer–Immunity Cycle
*This diagram is derived from reference 2.
4. What is Tumor Immune Escape?
Tumor immune escape refers to the phenomenon in which tumor cells escape recognition and attack by the body's immune system through a variety of mechanisms, so as to survive and proliferate in the body. The body's immune system has the function of immune surveillance. When malignant cells appear in the body, the immune system can recognize and specifically eliminate these "non-self" cells through the immune mechanism to resist the occurrence and development of tumors.
However, in some cases, malignant cells can evade the body's immune surveillance through multiple mechanisms, proliferate rapidly in the body, and form tumors. That is to say: On the one hand, the body can resist the occurrence of tumors through natural and acquired immunity; on the other hand, tumor cells can evade the recognition and attack of the body's immune system through a variety of mechanisms. The occurrence and outcome of tumors depend on the overall effects of these two aspects.
5. Featured Targets Related to Tumor Immunity
CUSABIO collects and lists related molecules/targets of tumor immunity, click to see all the related molecules/targets and research reagents of them.
References
[1] Chen DS, Mellman I. Oncology meets immunology: the cancer-immunity cycle [J]. Immunity. 2013 Jul 25; 39(1):1-10.
[2] Cao J, Yan Q. Cancer Epigenetics, Tumor Immunity, and Immunotherapy [J]. Trends Cancer. 2020 Jul;6(7):580-592.