Acute Inflammation
Inflammation, the first line of defense against injury or infection, refers to the initial physiological response to tissue damage. Inflammation can divide into two types based on the time of the process that responds to the injurious cause, including acute inflammation and chronic inflammation. Acute inflammation which occurs immediately after injury and lasts for few days, and is characterized by exudative lesions, with inflammatory cell infiltration dominated by granulocytes. Chronic inflammation that may last for months or even years when acute inflammation fails to settle [1], and its inflammatory cell infiltration is dominated by macrophages and lymphocytes. Here, we focus on the acute inflammation.
1. What are the Types of Acute Inflammation?
Acute inflammation begins within seconds to minutes following injury to tissues. It is usually characterized by four key features, including redness, heat, swelling and pain. Redness results from secondary to vasodilatation and increased blood flow. Heat is caused by localized increase in temperature, and also due to increased blood flow. Swelling results from increased vessel permeability and allows fluid loss into the interstitial space. Pain is caused by stimulation of the local nerve endings, from mechanical and chemical mediators.
Due to the difference of inflammatory factors, the degree of tissue reaction and the different sites of inflammation, the pathological form of acute inflammation is also different. According to the main components of exudate, acute inflammation is divided into four types, including serous inflammation, fibrinous inflammation, purulent inflammation and hemorrhagic inflammation. The differences of these four types of acute inflammation are shown as follows:
Type
Features
Prevalent disease or location
Serous inflammation

The main component of the serous exudation is serum;
It can cause effusion in the chest cavity, pericardium, joints, and abdominal cavity;
It is mild and easy to subside.

Mucosa, serosa, loose connective tissue
Fibrinous inflammation

It is dominated by fibrinogen exudation and the formation of cellulose in the inflammation focus;
The blood vessel wall is severely damaged, and the vascular permeability is obviously increased.

Mucosa, serosa, Lung bacillary dysentery, fluffy heart
Purulent inflammation
It is characterized by neutrophil exudation, with different degrees of tissue necrosis and pus formation.
Appendices, skin, subcutaneous, muscle, internal organs, serous membrane, etc.
Hemorrhagic inflammation
It is characterized by severe blood vessel damage, and the exudate contains a large number of red blood cells
Epidemic hemorrhagic fever, leptospirosis, plague.
2. What are the Stages of Acute Inflammation?
The pathogenesis of acute inflammation occurs progressively through several stages. Firstly, vasculature within and around the site of injury responds by increasing blood flow and enhancing vascular permeability. Secondly, immune cells are recruitment to the vasculature and extravasate into the injured parenchyma. Extravasated immune cells then migrate to the injured cells using gradients of chemotaxis. Once immune cells reach the site of injury they proceed to phagocytose and degrade cellular debris and any microbes which may be present. In this section, we focus on the migration of extravasated immune cells.
The predominant cell of acute inflammation is the neutrophil, which is one type of granulocytes. The migration of neutrophils occurs in four stages, including margination, rolling, adhesion and emigration (Figure 1). Margination refers to cells line up against the endothelium. Rolling means that neutrophils close contact with and roll along the endothelium. Adhesion refers to connect to the endothelial wall. Emigration means that cells move through the vessel wall to the affected area.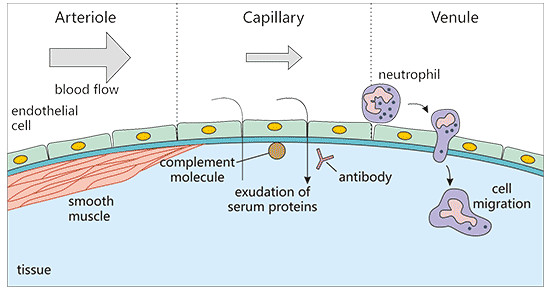 Figure 1. The stages of acute inflammation
Once in the region, neutrophils recognize the foreign body and begin phagocytosis, the process whereby the pathogen is engulfed and contained with a phagosome. The phagosome is then destroyed via oxygen-independent or oxygen-dependent mechanisms.
3. Featured Targets Related to Acute Inflammation
CUSABIO lists most related targets of three types of cell involved in acute inflammation, including dendritic cell, granulocyte and monocyte. Moreover, CUSABIO also displays several key targets involved in acute inflammation. Please click to see all the research reagents of them.
● Dendritic Cell
● Granulocytes
● Acute Phase Proteins
● Interferons
● Monocyte
References
[1] Hannoodee S, Nasuruddin DN. Acute Inflammatory Response [J]. Treasure Island (FL). 2021 Jan–.