The Hemopoietic System
The hematopoietic system refers to the whole system of blood production in the body, which is composed of hematopoietic organs and hematopoietic cells. It mainly includes yolk sac, liver, spleen, kidney, thymus, lymph node and bone marrow. Normal human blood cells are produced in bone marrow and lymphatic tissues. Hematopoietic cells all occur in the mesoderm of the embryo, and transfer to the hematopoietic center as the embryo develops. Hemopoietic system malfunction caused many blood diseases, such as hematopoietic stem cell disease, red blood cell disease, white blood cell disease, and more.
1. What is Developmental Hierarchy of the Hematopoietic System?
Before introducing blood diseases, we talk about developmental hierarchy of the hematopoietic system first. It is now recognized that all kinds of blood cells originate from the same bone marrow hematopoietic stem cell, and self-renewal and multidirectional differentiation are the two major characteristics of hematopoietic stem cells. As the figure 1 shows, the development of blood cells is divided into 5 stages, including pluripotent stem cells, multipotent stem cell, committed progenitor cell, precursor cell and blood cells of various lines. Pluripotent stem cells are the most primitive undifferentiated stem cells. Multipotent stem cell refers a group of partially differentiated cells, such as CFU-S, lymphoid stem cells. Committed progenitor cells have limited or disappeared self-replication ability, and only have the differentiation potential of one or two lines. Precursor cells, such as immature cells of various lines whose morphology has been recognizable in the bone marrow.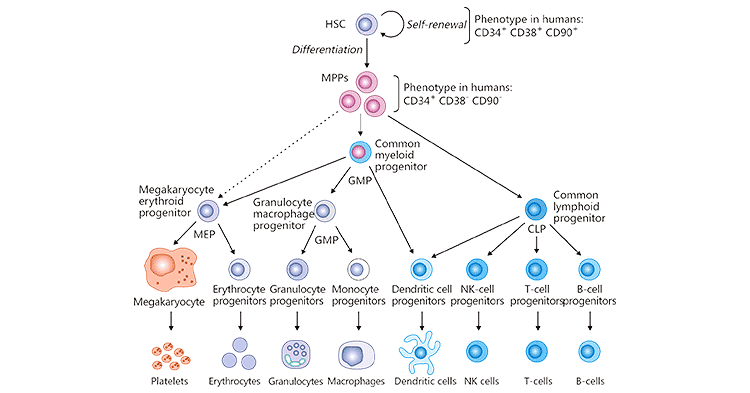 Figure 1. Developmental hierarchy of the hematopoietic system
*This diagram is derived from reference 1.
In addition to hematopoietic stem cells, hematopoiesis requires the presence of a normal hematopoietic microenvironment and positive and negative hematopoietic regulatory factors. The non-hematopoietic cell components in hematopoietic tissues, including the microvascular system, nerve components, reticulocytes, matrix and other connective tissues, are collectively referred to as the hematopoietic microenvironment. The hematopoietic microenvironment can directly contact with hematopoietic cells or release certain factors to affect or induce the production of hematopoietic cells.
2. What are the Hematopoietic System Diseases?
As mentioned before, hematopoietic system diseases refer to diseases that occur in hematopoietic cells or organs belonging to a group of diseases in the blood system. Common diseases include red blood cell diseases, white blood cell diseases and platelet diseases.
Red blood cell diseases refer to blood disorders that affect red blood cells, which play a critical role in carrying oxygen to your body's tissues and organs and bringing carbon dioxide to your lungs. This type of disease includes anemia and polycythemia. According to different pathogenesis, anemia can be further divided into different types, including iron-deficiency anemia, pernicious anemia, aplastic anemia, autoimmune hemolytic anemia, sickle cell anemia, and more. Polycythemia can be further divided into polycythemia vera and secondary polycythemia.
White blood cell diseases refer a group of blood disorders that affect white blood cells, which fight infection as part of your immune system. The common white blood cell diseases include lymphoma, leukemia, multiple myeloma and myelodysplastic syndrome. Among of them, lymphoma, leukemia and multiple myeloma are also called blood cancer.
Platelet diseases refer a group of blood disorders that affect platelets, which help your blood clot when you're injured. The common platelet diseases include Heparin-induced thrombocytopenia, idiopathic thrombocytopenic purpura, thrombotic thrombocytopenic purpura and primary thrombocythemia.
3. Featured Targets Related to the Hemopoietic System
CUSABIO collects and lists related molecules/targets of the hemopoietic system, click to see all the related molecules/targets and research reagents of them.
● Common beta Chain Receptor Family
● Chemokines and Receptors
● Common gamma Chain Receptor Family
● EGF Family
● FGF Family
● Growth/Differentiation Factors
● Hedgehog Family
● Hemangioblasts
● Hematopoietic Stem Cell Growth Factors
● PDGF Family
● Platelets
References
[1] Seita J, Weissman IL. Hematopoietic stem cell: self-renewal versus differentiation [J]. Wiley Interdiscip Rev Syst Biol Med. 2010, 2(6):640–53.