Chemokine receptors are cytokine receptors expressed on the cell surface as 7-transmembrane proteins that interact with a type of cytokine called a chemokine. Recently, the chemokine receptors have come to attract more attention than cytokines themselves, partly because of their remarkable characteristics, and partly because a deficiency of cytokine receptors has now been directly linked to certain debilitating immunodeficiency states.
Some time ago, a guy from CUSABIO has written an article named "The Overview of Chemokine". The article involves the definition, function, family and signaling pathway of chemokines. Here, we focus on chemokine receptor, including function, structure, family, signaling pathway and related diseases and so on.
1. What is the function of chemokine receptors?
Chemokine receptors are a class of GTP-protein-coupled transmembrane receptors (GPCRs) that mediate the function of chemokines and are normally expressed on cell membranes such as immune cells and endothelial cells.
2. What is the structure of chemokine receptors?
Chemokine receptor are G protein-coupled receptors and consists of approximately 350 amino acids. The chemokine receptors are all seven-transmembrane (7TM) receptors with seven helical membrane-spanning regions that are found predominantly on the surface of leukocytes, making it one of the rhodopsin-like receptors. The seven transmembrane regions divide the protein into several sections, including extracellular free N-terminals, three extracellular loops, three intracellular loops, and a C-terminus containing serine and threonine residues that act as phosphorylation sites during receptor regulation. As the figure 1 shows: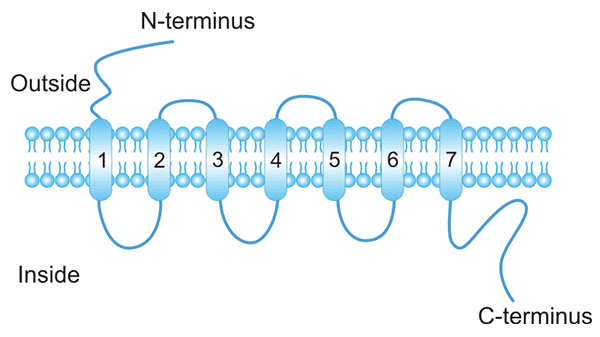 Figure 1. Schematic presentation of the chemokine receptor structure
The N terminus and three ECLs are exposed outside the cell, whereas the C terminus and three intracellular loops face the cytoplasm [1]. The first two extracellular loops of chemokine receptors are linked together by disulfide bonding between two conserved cysteine residues. The N-terminal end of a chemokine receptor binds to chemokine(s) and is important for ligand specificity. G-proteins couple to the C-terminal end, which is important for receptor signaling following ligand binding. The intracellular second loop has a characteristic aspartate-arginine-tyrosine box (DRY box) amino acid sequence.
Although chemokine receptors share high amino acid identity in their primary sequences, they typically bind a limited number of ligands. Chemokine receptors are redundant in their function as more than one chemokine is able to bind to a single receptor.
3. What are the members of chemokine receptor family?
According to the classification of chemokines, receptors that bind to CC-like chemokines are called CC receptors (CCR), and receptors that bind to CXC-like chemokines are called CXC-like receptors (CXCR). C and CX3C receptors (CR, CX3CR). Approximately 20 signaling chemokine receptors have been reported as well as 3 non-signaling scavenger receptors that dampen the immune response by binding, internalizing, and, in the case of D6, degrading chemokines [2] [3] [4] (Table 1).
Table 1. Chemokine receptors and their ligands
| Chemokine Receptors | Ligands |
| --- | --- |
| CCR1 | CCL3, CCL5, CCL7, CCL13, CCL14, CCL15, CCL16, CCL23 |
| CCR2 | CCL2, CCL7, CCL8, CCL13, CCL16 |
| CCR3 | CCL5, CCL7, CCL8, CCL11, CCL13, CCL15, CCL16, CCL24, CCL26, CCL28 |
| CCR4 | CCL17, CCL22 |
| CCR5 | CCL3, CCL4, CCL5, CCL8, CCL11, CCL14, CCL16 |
| CCR6 | CCL20 |
| CCR7 | CCL19, CCL21 |
| CCR8 | CCL1 |
| CCR9 | CCL25 |
| CCR10 | CCL27, CCL28 |
| CXCR1 | CXCL6, CXCL7, CXCL8 |
| CXCR2 | CXCL1, CXCL2, CXCL3, CXCL6, CXCL7, CXCL8 |
| CXCR3-A | CXCL9, CXCL10, CXCL11 |
| CXCR3-B | CXCL4, CXCL9, CXCL10, CXCL11 |
| CXCR4 | CXCL12 |
| CXCR5 | CXCL13 |
| CXCR6 | CXCL6 |
| CXCR7 | CXCL12 |
| XCR1 | XCL1, XCL2 |
| CX3CR1 | CX3CL1 |
| CCX-CKR | CXCL9, CCL21, CCL25 |
| D6 | CCL2, CCL3L1, CCL4, CCL5, CCL7, CCL8, CCL11, CCL13, CCL14, CCL17, CCL22 |
| DARC/Duffy | CCL2, CCL7, CCL8, CCL11, CCL13, CCL14, CCL16, CCL17, CXCL1, CXCL5, CXCL6, CXCL7, CXCL8, CXCL9, CXCL11, CXCL13 |
*The content of Table 1 is derived from reference No. 1.
4. Chemokine receptor signaling
Chemokine receptors are also called G protein–coupled receptors (GPCRs). Intracellular signaling by chemokine receptors is dependent on G-protein which exists as a (αβγ) heterotrimer [5]. They are composed of three distinct subunits.
The Gα subunit interacts directly with the chemokine receptor intracellular loops and with the Gβ subunit, which in turn forms a tight complex with the Gγ subunit. The Gα subunit contains a GTPase domain involved in binding and hydrolysis of GTP. When the molecule GDP is bound to the G-protein subunit, the G-protein is in an inactive state.
When a chemokine ligand binds a chemokine receptor, it induces the chemokine receptor into a conformation that activates the heterotrimeric G protein inside the cell, causing the exchange of GDP for another molecule called GTP. Gα-GTP then dissociates from the receptor and from the Gβγ heterodimer, and the subunit called Gα activates an enzyme known as Phospholipase C (PLC) that is associated with the cell membrane.
PLC cleaves Phosphatidylinositol (4,5)-bisphosphate (PIP2) to form two second messenger molecules called inositol triphosphate (IP3) and diacylglycerol (DAG); DAG activates another enzyme called protein kinase C (PKC), and IP3 triggers the release of calcium from intracellular stores. These events promote many signaling cascades, effecting a cellular response [6] [7]. You can click here to view the signaling pathway.
5. Chemokine receptor and diseases
Many tumor cells over-express functional chemokine receptors, undetectable on their normal counterparts. These receptors respond to chemokine signals by promoting cell survival, proliferation, adhesion, or migration, but also direct metastasis formation on tissues or organs where the corresponding ligands are secreted [8] [9]. Here, we focus on the infectious diseases (such as HIV) and cancer.
5.1 Chemokine receptor and HIV
HIV, an abbreviation of Human Immunodeficiency Virus, is a lentivirus that belongs to the class of retroviruses. Since its discovery in 1983 as the etiological agent of AIDS, the disease has spread in successive waves in various regions around the world. Two major subtypes of HIV, HIV-1 and HIV-2, have been characterized. HIV-1 is the predominant HIV type throughout the world [10]. Click the article entitled "One World, One Hope——What Can We Do about AIDS?", and you can view more information about HIV, including its history, classification, structure and testing.
In recent years, accumulating evidence has uncovered that chemokine receptors are the human cofactors required along with CD4 for fusion and infection by HIV [11]. This discovery has opened new directions in AIDS research on mechanisms of viral entry, tropism, and pathogenesis [12].
HIV entry into cells is a multistep process. First, the viral envelope protein gp120 binds to CD4 receptor on the host cell surface, which induces conformational changes in the gp120 subunit setting free the co-receptor binding site on gp120. After binding of the glycoprotein with the co-receptor, HIV-1 gp41 'unfolds' by a hinge mechanism followed by insertion of the fusion peptide into the cell membrane, anchoring the virus to the cellular membrane. Then, gp41 folds into a 'hairpin structure' and brings the cell membrane and the viral membrane into close proximity whereafter fusion can take place. Following membrane fusion, the viral contents are expelled into the cell [13]. As the figure 2 shows:

Figure 2. Schematic presentation of the HIV-1 entry process
The chemokine receptors CXCR4 and CCR5 are the main co-receptors used by the T-cell-tropic (CXCR4-using, X4) and macrophage tropic (CCR5-using, R5) HIV-1 strains, respectively, for entering their CD4+ target cells, although it has been postulated that other receptors, including the non-signaling chemokine receptor D6, may also play a role.
Based on these discoveries, several low-molecular weight CCR5 and CXCR4 antagonistic compounds have been described with potent antiviral activity. The best CXCR4 antagonists described are the bicyclam derivatives, which consistently block X4 but also R5/X4 viral replication in PBMCs. We believe that chemokine receptor antagonists will become important new antiviral drugs to combat AIDS. Both CXCR4 and CCR5 chemokine receptor inhibitors will be needed in combination and even in combinations of antiviral drugs that also target other aspects of the HIV replication cycle to obtain optimum antiviral therapeutic effects.
5.2 Chemokine receptor and Cancer
As you know, chemokines, a family of small chemotactic cytokines, play a central role in homeostasis and the maintenance of innate and acquired immunity by controlling leukocyte trafficking and recruitment [14]. The biological effects of chemokines are exerted through their interaction with chemokine receptors. Chemokines and their receptors have been implicated in the pathogenesis of many inflammatory and infectious diseases, but also in cancer [15] [16].
Expression of chemokines and their receptors play a dual role in tumorigenicity. On one hand, chemokines, secreted by either the cancer-initiating cells or the normal cells surrounding them, can limit tumor development by increasing leukocyte migration toward the site, and induce long-term anti-tumor immunity. On another hand, they may facilitate survival, proliferation, and metastatic potential of tumor cells [17] [18].
The most frequently over-expressed chemokine receptor in malignant cells is CXCR4 [19]. It presents in over 23 different types of human cancer, such as lung, brain, prostate, breast, pancreas, ovarian, colorectal, leukemia, and melanomas [20]. CXCR4 expression on malignant cells correlates with cell survival, tumor growth, angiogenesis, higher metastatic potential, and resistance to therapeutic agents. Its ligand, CXCL12, is secreted in large amounts by bone marrow, lymphnode, liver, and lung cells.
During the last years, a broad effort has been centered on targeting regulatory molecules from the host immune system that act as "immune checkpoints" with mAbs. With the monoclonal technology development, monoclonal antibodies against CXCR4, CCR2, and CCR4 have entered clinical trials for cancer therapy.
References
[1] Samantha J. Allen, Susan E. Crown, et al. Chemokine: Receptor Structure, Interactions, and Antagonism [J]. Annu. Rev. Immunol. 2007. 25:787–820.
[2] Graham GJ, McKimmie CS. Chemokine scavenging by D6: a movable feast [J]? Trends Immunol. 2006, 27:381–86.
[3] Weber M, Blair E, et al. The chemokine receptor D6 constitutively traffics to and from the cell surface to internalize and degrade chemokines [J]. Mol. Biol. Cell. 2004, 15:2492–508.
[4] Nibbs R, Graham G, et al. Chemokines on the move: control by the chemokine"interceptors" Duffy blood group antigen and D6 [J]. Semin. Immunol. 2003, 15:287–94.
[5] Lefkowitz RJ. Historical review: a brief history and personal retrospective of seventransmembrane receptors [J]. Trends Pharmacol. Sci. 2004, 25:413–22.
[6] Murdoch.Craig, Finn. Adam. Chemokine receptors and their role in inflammation and infectious diseases [J]. Blood. 2000, 95: 3032–3043.
[7] Annelien J.M. Zweemer, Jimita Toraskar, et al. Bias in chemokine receptor signaling [J]. Trends in Immunology. 2014, 35 (6):243-252.
[8] MukaidaN, BabaT. Chemokines in tumor development and progression [J]. Exp CellRes. 2012, 318(2):95–102.
[10] MariaVela, Mariana Aris, et al. Chemokine receptor-specific antibodies in cancer immunotherapy: achievements and challenges [J]. 2015, 6 (12): 1-15.
[11] Katrien Princen, Dominique Schols. HIV chemokine receptor inhibitors as novel anti-HIV drugs [J]. Cytokine & Growth Factor Reviews. 2005, 16: 659–677.
[12] Broder CC, Collman RG. Chemokine receptors and HIV [J]. J Leukoc Biol. 1997, 62(1):20-9.
[13] Doms RW. Beyond receptor expression: the influence of receptor conformation, density, and affinity in HIV-1 infection [J]. Virology. 2000, 276:229–37.
[14] RotA, von Andrian UH. Chemokines in innate and adaptive host defense: basic chemokinese grammar for immune cells [J]. Annu Rev Immunol. 2004, 22: 891–928.
[15] WhiteGE, IqbalAJ,et al.CC chemokine receptors and chronic inflammation therapeutic opportunities and pharmacological challenges [J]. Pharmacol Rev. 2013, 65(1):47–89.
[16] BarbieriF, BajettoA, et al. Role of chemokine network in the development and progression of ovarian cancer: a potential novel pharmacological target [J]. J Oncol. 2010, 42: 56-69.
[17] Balk will F. Chemokine biology in cancer [J]. Semin Immunol. 2003, 15(1):49–55.
[18] Viola A, Sarukhan A, et al. The pros and cons of chemokines in tumor immunology [J]. Trend sImmunol. 2012, 33(10):496–504.
[19] Burger JA, Kipps TJ. CXCR4: a key receptor in the crosstalk between tumor cells and their micro environment [J]. Blood. 2006, 107(5):1761–7.
[20] Balkwill F. The significance of cancer cell expression of the chemokine receptor CXCR4 [J]. Semin Cancer Biol. 2004, 14(3):171–9.