Melanoma originates in the neural crest melanocytes. Melanoma forms when melanocytes become malignant. Melanoma is the most deadly malignant tumor in skin cancer [1]. It is often found in the skin, but also occurs in eye, nasal cavity, anal rectum, lymph node and other tissues.
Melanoma occurs in the skin and is called cutaneous melanoma. Originating from the eyes, nasal cavity, digestive tract, lymph nodes, vulva, meninges, etc., it is called mucosal melanoma. Melanoma is characterized by high metastasis, high malignancy, high mortality, poor prognosis and poor therapeutic effect [2].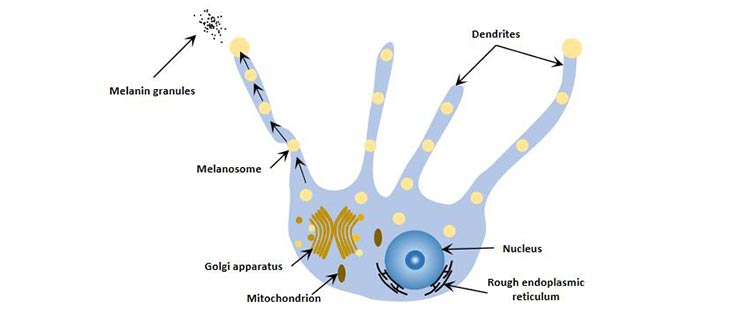 Figure 1 The diagram of melanocytes
1. What Factors Affect Melanoma?
At present, the etiology of melanoma has not been fully elucidated, and the main cause of malignant melanoma is the uncontrolled and abundant proliferation of melanocytes.
The occurrence of melanoma is the result of multiple factors such as genes, environment and gene/environment. The main risk factors for melanoma include the following:
1.1 Exposure to Ultraviolet Radiation
Ultraviolet radiation is closely related to the development of melanoma. It was found that UVB acted on the pyrimidine ring of DNA, causing mutations in the pyrimidines [3], thereby damaging DNA. UVA leads to damage and fracture of DNA through the production of reactive oxygen species (ROS), and finally produces gene mutation [4].
Skin cancer begins when ultraviolet light damages the DNA of genes that control the growth of skin cells.
1.2 Family History of Melanoma
Approximately 10% of melanoma patients have a family history. It may be due to a shared family lifestyle, certain genetic changes (mutations) in the family, or a combination of factors. Familial (hereditary) melanomas are most commonly associated with alterations in tumor suppressor genes.
The earliest discovered gene associated with melanoma is the CDKN2A gene. The CDKN2A mutation population has a significantly higher chance of developing melanoma than the general population. However, the CDKN2A mutation is only a minority in melanoma patients, indicating that other genes are involved in the development of melanoma. With the development of technology, other genes have been found to be associated with the development of melanoma: MC1R, MTAP, ASIP, TYR and other genes. Among them, MC1R gene mutation can reduce the disease risk of CDKN2A mutation [5].
1.3 Nevus (Dysplasia, Large Number, or Congenital Giant Nevus)
Nevus are also called moles. In general, most moles never cause any problems, but people with a lot of moles are more likely to develop melanoma. Especially atypical moles (dysplastic moles).
How do you know if your mole is normal? You can refer to the ABCDE rules.
A (Asymmetrical): Common moles are round or oval, relatively symmetrical structure.
Malignant moles are usually irregular and asymmetrical in shape.
B (Border irregularity): The border of the melanoma is irregular, jagged, notched or blurred. These indicate that it may infiltrate and invade surrounding tissues.
C (Colorvariegation): Common moles have uniform color distribution, whereas melanoma usually has uneven color distribution and a mixture of colors.
D (Diameter): Moles larger than 6 mm in diameter should be closely observed.
E (Evolving): The size, shape or color of the moles varies with time.
1.4 Fair Skin, Freckles and Light Hair
Whites are at a much higher risk of developing melanoma than African Americans. People with red hair or blond hair, blue eyes or green eyes, people with freckles or burned white skin are at higher risk.
1.5 Weakened Immune System
People with weak immune systems are more likely to develop melanoma. For example, People who receive organ transplants and are infected with HIV tend to have weaker immune systems and a higher risk of melanoma.
1.6 Personal History of Melanoma or Other Skin Cancer
People who already have melanoma have a higher risk of developing it again. People with basal or squamous cell skin cancer also have a higher risk of melanoma.
1.7 Xeroderma Pigmentation (XP)
Xeroderma pigmentation (XP) is an inherited disease that affects the ability of skin cells to repair damage to their DNA. XP patients are at high risk of melanoma and other skin cancers when they are young, especially in areas exposed to sunlight.
1.8 Age
Melanomas are more likely to occur in older people, but are also found in younger people.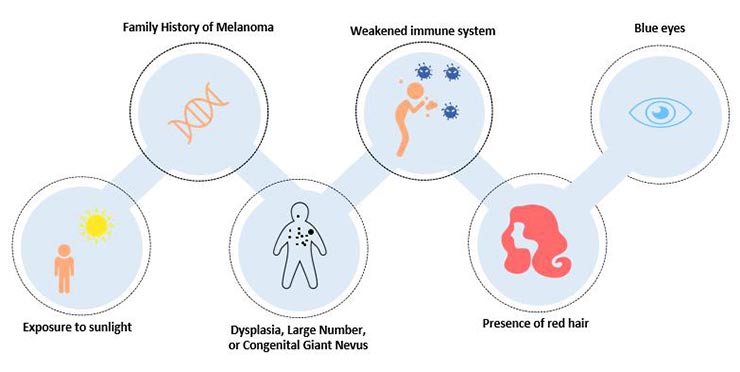 Figure 2 Risk factors of melanoma
2. Melanoma-Associated Signaling Pathways
Abnormal activation of signal transduction pathways, such as mitogen activated protein kinase (MAPK), phosphoinositol 3 kinase (PI3K) and Wnt/β-catenin pathway, may be an important factor in inducing melanoma invasion and metastasis [6]. In addition, TGF-β/BMP may play an important role in the growth and metastasis of malignant melanoma.
3. How to Prevent Melanoma?
Check Skin: Check your skin regularly for changes in the number, size, shape, or color of spots. After taking a shower or shower, check for any moles from the top of your head to your toes.
Take Good Sun Protection Measures: Excessive exposure to ultraviolet light is one of the causes of skin malignant melanoma. Ultraviolet light in the sun burns the skin and induces DNA mutations. Therefore, sun protection is one of the main means of preventing malignant melanoma.
4. How to Diagnose Melanoma?
For suspected skin lesions, the ABCDE standard can be used for judgment. Biopsies are required in patients with high suspicion of malignant melanoma damage. If necessary, it can be examined and diagnosed by immunohistochemical staining. For example, S-100, HMB-45 and vimentin are specific indicators for the diagnosis of melanoma.
Histopathology can be graded according to biopsy results.
4.1 Histopathological Examination Classification
At present, the clinical tissue classification of melanoma adopts Clark classification [11] to classify melanoma into 5 grades according to the depth of invasion. The higher the grade, the worse the prognosis.
Clark Ⅰ: the tumor is confined to skin layer (in-situ melanoma).
Clark II: tumor cells break through the basement membrane and invade the dermal papilla.
Clark III: the tumor is full of dermal papilla, but not to the dermal reticular layer.
Clark IV: tumor infiltrating dermal reticular layer of collagen fibers.
Clark V: tumor infiltrating subcutaneous tissue.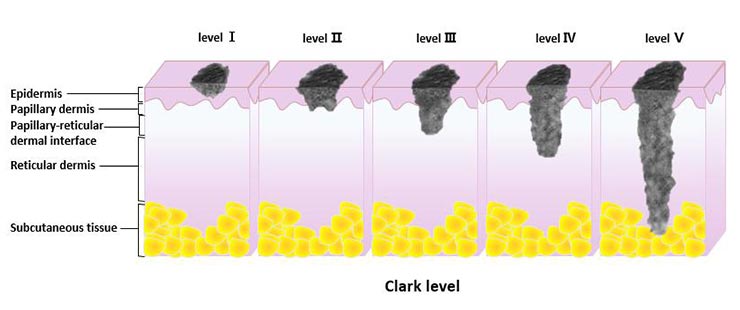 Figure 3 Stage of melanoma cancer
4.2 Melanoma Skin Cancer Staging
For patients diagnosed with melanoma, it is necessary to further determine whether the tumor spreads and what extent the tumor has spread. This process is called staging. Proper staging helps determine the severity of the cancer and the best treatment.
The most commonly used melanoma staging system is the TNM system of the American Joint Committee on Cancer (AJCC), which includes the following three key messages:
Degree of Tumor (T): Determines the depth of tumor growth in the skin and whether the cancer is ulcerated.

The determination of the thickness of melanoma is called Breslow measurement. The thickest part of the melanoma (thickness from the granular layer to the deepest part of the melanoma) was measured, and the melanoma was divided into five grades according to the thickness: less than 0.75, 0.76 to 1.50, 1.51 to 3.00, 3.01 to 4.50, and greater than 4.50.

Ulcer refers to the breakdown of melanoma on the skin. Festered melanoma tends to be worse.

Spread to nearby lymph nodes (N): whether the cancer has spread to nearby lymph nodes.
Spread (metastasis) to distant sites (M): whether the cancer has spread to distant lymph nodes or distant organs, such as lungs or brain.
5. Treatment
Malignant melanoma has strong invasion and migration ability. Early diagnosis and early treatment are needed for such diseases. Early diagnosis and surgical resection of primary lesions can significantly improve survival.
There are many treatment for melanoma, and the treatment plan should be determined according to clinical stage and prognostic factors, as well as clinical factors such as patient age, functional status, tolerance and concomitant disease.
At present, different surgical methods according to the stage of the tumor are the main methods for treating melanoma.
Surgical resection should be performed for early non-metastatic lesions, and the extent of resection should be determined based on Breslow depth.
For in situ deep-infiltrating melanoma and cases where lymph node metastasis has occurred, comprehensive treatment including surgery, immunotherapy, chemotherapy, or even radiotherapy is required.
For advanced patients, chemotherapy, radiotherapy and targeted therapy are required under the premise of palliative surgery to reduce tumor load [12].
In addition to traditional surgical treatment and radiotherapy and chemotherapy, targeted therapy and immunotherapy have become the focus of clinical research on melanoma treatment.
5.1 Targeted Therapy
The clinical application of targeted therapy mainly includes the application of a drug----BRAF inhibitor that targets a high mutation gene in melanoma and an inhibitor that targets MEK1/2.
BRAF inhibitors vemurafenib [13] and dabrafenib have been approved for melanoma patients-carriers of BRAF V600E or V600K gene mutations. These drugs have been shown to significantly improve the survival rate of patients with melanoma gene mutations. The MEK inhibitor trametinib can increase the survival rate of melanoma patients when used in combination with BRAF inhibitors [14].
Akt kinase activity is significantly increased in most melanoma patients, and inhibitors designed for Akt kinase in melanoma cells can block the signaling pathway of melanoma cells and inhibit their growth [15].
Although the effects of these targeted drugs are significant, most patients develop resistance soon.
For this reason, the combination therapy has been studied clinically. Combination therapy with protein kinase Cζ (PKCζ) and cyclooxygenase-2 (COX-2) inhibitors significantly inhibits melanoma metastasis in vitro and in vivo [16]; PD-1/PD-L1 inhibitors and The combination of CTLA4 inhibitors has been shown to be very effective in patients with advanced melanoma in Phase I-III trials [17] [18].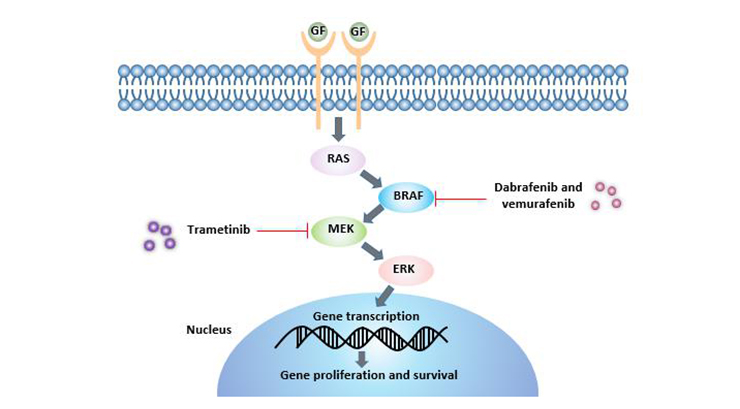 Figure 4 Treatment of targeted MAPK signaling pathway
5.2 Immunotherapy
Current studies have shown that anti-CTLA4 antibody ipilimumab and anti-PD1 antibody nivolumab have satisfactory efficacy in some patients. Long-term follow-up studies of several patients with advanced melanoma treated with Ipilimumab confirmed that Ipilimumab is effective in improving survival in patients with advanced melanoma [19].
In addition, studies of co-stimulatory pathways OX-40 (CD134) and 4-1BB (CD137) have also guided new directions in the treatment of melanoma.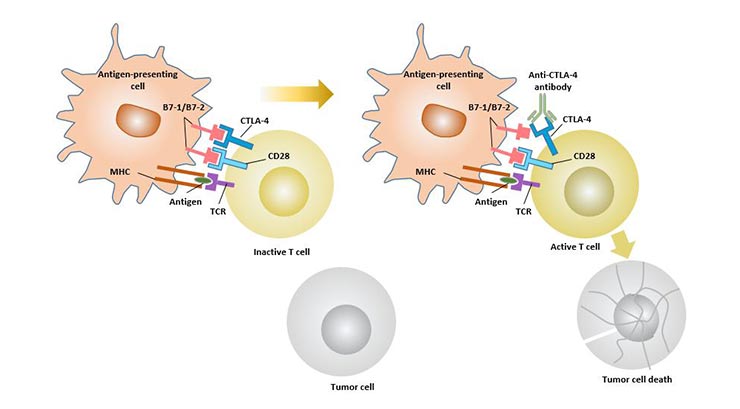 Figure 5 Immunotherapy for blocking CTLA-4
6. Prognosis
The prognosis depends on the stage of the diagnosis. After conventional treatment, the 5-year survival rate of melanoma in situ is 95%. Metastatic melanoma has a very poor therapeutic effect due to its resistance to traditional chemoradiotherapy and immunomodulatory drugs, and its 5-year survival rate only 10%. Malignant melanoma is therefore the most deadly form of all skin cancers [20]. The melanoma staging criteria of AJCC confirm the prognostic significance of melanin thickness measurements. In patients with a thickness of ≤1.0 mm, the 10-year survival rate is approximately 92%, and the 10-year survival rate is reduced to 50% in patients with a thickness of ≥4 mm [21].
References
[1] Gray-Schopfer V, Wellbrock C, Marais R. Melanoma biology and new targeted therapy [J]. NATURE, 2007, 445(7130): 851-857.
[2] Eggermont A, Spatz A, Robert C. Cutaneous melanoma [J]. Lancet, 2014, 383(9919): 816-827.
[3] Merlino G, Jhappan C, Noonan F P. Ultraviolet radiation and cutaneous malignant melanoma [J]. Oncogene, 2003, 22(20): 3099-3112.
[4] Matsumura Y, Ananthaswamy H N. Molecular mechanisms of photocarcinogenesis [J]. Frontiers in Bioscience, 2002, 7(1-3): d765-83.
[5] Velden P A V D, Sandkuijl L A, Bergman W, et al. Melanocortin-1 Receptor Variant R151C Modifies Melanoma Risk in Dutch Families with Melanoma [J]. American Journal of Human Genetics, 2001, 69(4): 0-779.
[6] Schütz, Birgit, Koppensteiner A, Sch?rghofer D, et al. Generation of metastatic melanoma specific antibodies by affinity purification [J]. Scientific Reports, 2016, 6(1): 37253.
[7] Zoey H, Donovan M G, Morais B G, et al. Quercetin as an Emerging Anti-Melanoma Agent: A Four-Focus Area Therapeutic Development Strategy [J]. Frontiers in Nutrition, 2016, 3.
[8] Conner S R, Scott G, Aplin A E. Adhesion-dependent Activation of the ERK1/2 Cascade Is By-passed in Melanoma Cells [J]. Journal of Biological Chemistry, 2003, 278(36): 34548-34554.
[9] Jayachandran A, Anaka M, Prithviraj P, et al. Thrombospondin 1 promotes an aggressive phenotype through epithelial-to-mesenchymal transition in human melanoma [J]. Oncotarget, 2014, 5(14): 5782-5797.
[10] Rodeck U, Bossler A, Graeven U, et al. Transforming growth factor beta production and responsiveness in normal human melanocytes and melanoma cells [J]. Cancer Research, 1994, 54(2): 575-581.
[11] Clark W. The histogenesis and biologic behavior of primary human malignant melanomas of the skin [J]. Cancer Res, 1969, 29(3): 705-727.
[12] Coit D G, Andtbacka R, Anker C J, et al. Melanoma, Version 2.2013: Featured Updates to the NCCN Guidelines [J]. Journal of the National Comprehensive Cancer Network: JNCCN, 2013, 11(4): 395-407.
[13] Heakal Y, Kester M, Savage S. Vemurafenib (PLX4032): An Orally Available Inhibitor of Mutated BRAF for the Treatment of Metastatic Melanoma [J]. Annals of Pharmacotherapy, 2011, 45(11): 1399-1405.
[14] Long G V, Stroyakovskiy D, Gogas H, et al. Dabrafenib and trametinib versus dabrafenib and placebo for Val600 BRAF-mutant melanoma: a multicentre, double-blind, phase 3 randomised controlled trial [J]. Lancet, 2015, 386(9992): 444.
[15] Lee B, Mukhi N, Liu D. Current management and novel agents for malignant melanoma [J]. Journal of Hematology & Oncology, 2012, 5(1): 3.
[16] Zhou P, Qin J, Li Y, et al. Combination therapy of PKCζ and COX-2 inhibitors synergistically suppress melanoma metastasis [J]. Journal of Experimental & Clinical Cancer Research, 2017, 36(1): 115.
[17] Hodi F S, O'Day S J, Mcdermott D F, et al. Improved Survival with Ipilimumab in Patients with Metastatic Melanoma [J]. New England Journal of Medicine, 2010, 363(8): 711-723.
[18] Gorantla V C, Kirkwood J M. State of Melanoma: An Historic Overview of a Field in Transition [J]. Hematology/oncology Clinics of North America, 2014, 28(3): 415-435.
[19] Lebbe C, Weber J S, Maio M, et al. Survival follow-up and ipilimumab retreatment of patients with advanced melanoma who received ipilimumab in prior phase II studies [J]. Annals of Oncology, 2014, 25(11): 2277-2284.
[20] Evans M S, Madhunapantula S V, Robertson G P, et al. Current and Future Trials of Targeted Therapies in Cutaneous Melanoma [J]. Advances in Experimental Medicine and Biology, 2013, 779: 223-255.
[21] Balch C M, Gershenwald Je, Soong S J, et al. Final Version of 2009 AJCC Melanoma Staging and Classification [J]. Journal of Clinical Oncology, 2009, 27(36): 6199-6206.